Relax and recharge with J.R. Watkins Lavender Cre?me Bath. Indulge your skin in a warm bath of luxurious bubbles, while Lavender relaxes your senses. Simply pour desired amount of cre?me bath under running water and turn the typical bath time into a truly indulgent experience.
Then, achieve a radiant glow with our 100% Natural body scrubs! Sugar and shea butter combine with natural oils to gently exfoliate and moisturize, leaving skin smooth, soft and irresistible to the touch.
Watkins Sugar and Shea Body Scrubs and Lavender Crème Bath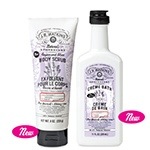 Sugar and Shea Body Scrubs
Available in three essences:
Coconut Milk & Honey, Grapefruit, and Lavender.
To see all Watkins has to offer please see our…
Watkins Products Canadian Catalog
Watkins Guarantee…
"If a Watkins product used in your home is, for any reason, considered not to be satisfactory, please return the product to Watkins Incorporated for a full refund of your purchase price."
When was the last time You saw a Watkins Rep in Your area?
That's why we need someone there!
If You, or someone You know, "Love Watkins Products"
And would like a fun way to earn some extra income,
Please contact Independent Watkins Manager
Brian Hurlburt (ID#342198)
Toll Free 877-822-8463