So here's our "Watkins Product Recipe Of The Week" … Herbed Turkey!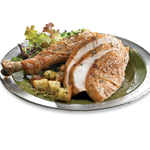 Ingredients:
1/4 cup/60 mL Watkins Original Grapeseed Oil
2 tbsp/30 mL Watkins Garlic Powder
2 tsp/10 mL Watkins Basil
1 tsp/5 mL Watkins Sage
1 tsp/5 mL Watkins Coarse Sea Salt
1/2 tsp/2.5 mL Watkins Black Pepper
Cooking Directions:
Preheat oven to 375°F/190°.
Clean turkey (discard giblets and organs) and
place in a roasting pan.
In a small bowl,
combine oil, garlic powder, basil, sage, salt and pepper.
Using a basting brush, apply the mixture to turkey.
Bake for 2 to 2 ½ hours,
or until the internal temperature
of the thickest part of the thigh
measures 160°F/71°C.
Remove bird from oven, and
allow to stand for about 30 minutes,
internal temperature will rise.
We invite you to send us your Favorite Watkins Products Recipes!
Do you have questions about Watkins, Watkins Products, or Earning an Income with Watkins? I'd love to hear your feedback? Post your comments below or contact me today! Please feel free to contact me toll free at 877-822-8463.
Brian Hurlburt, Independent Watkins Manager, ID#342198