I'm going to try to share a Recipe a Week with you here, there are a number of great Recipes available at JustGoNatural.com and we've decided to feature some of them here.
So here's our "Watkins Product Recipe Of The Week" …
Marbled Pumpkin Cheesecake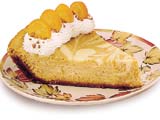 Ingredients
1-1/2 cups/375 mL gingersnap cookie crumbs (about 32 cookies)
1/4 cup/60 mL unsalted butter, melted
2 packages (8 oz/227 g each) cream cheese, softened
3/4 cup/180 mL sugar, divided
1 tsp/5 mL Original Double Strength Vanilla Extract
3 eggs
1 cup/250 mL canned or cooked pumpkin
1-1/2 tsp/7.5 mL pumpkin pie spice
To make your own Watkins pumpkin pie spice:
1-1/2 tsp Cinnamon 170 g
1/2 tsp Ground Nutmeg (Tin)
1/4 tsp Ground Cloves (Tin)
1/2 tsp Ginger (Tin)
Combine all ingredients. If you make extra, store in air tight container.
Cooking Directions
Preheat oven to 400°F/200°C. Combine crumbs and butter. Press firmly over bottom and up sides of pie plate. Bake for 5 minutes; remove from oven and let cool. Reduce oven temperature to 325°F/170°C. In large mixer bowl, beat cream cheese, 1/2 cup/120 mL sugar and vanilla until blended. Beat in eggs one at a time. Reserve 1 cup/250 mL batter. Add remaining sugar, pumpkin and Pumpkin Pie Spice to remaining batter; mix well. Alternately layer pumpkin and cream cheese batters over crust. Cut through batters with knife several times for marbled effect. Bake for 45 to 50 minutes or until cheesecake springs back lightly when slightly touched. Loose cheesecake from rim of pan. Let cool to room temperature, then chill.
Makes 12 servings.
If you'd like to purchase the Watkins Products Ingredients
needed for this Marbled Pumpkin Cheesecake
just go to our Online Watkins Products Store:
JustGoNatural.com
We'd love to hear your feedback?
Post your comments below or
contact me today!
Marbled Pumpkin Cheesecake