I love Watkins Products and Recipes and when I saw Dad's Favourite Watkins Peppery Beef Kebabs, I just knew I had to share these with You! I should say, "Dad's Favourite" yes, but not my Dad! Yet, because Watkins Products bring such wonderful taste to these Recipes. I just had to share the Recipe for these "Watkins Peppery Beef Kebabs". They sound so wonderful, I'm sure you'll love them too!
The Recipe comes from our Watkins Web Site, and were submitted by another Watkins Consultant who dubbed them "Dad's Favourite Watkins Peppery Beef Kebab" and I know these will become our favourite too! I'm looking forward to these…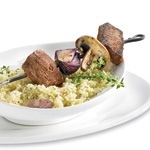 Dad's Favourite Watkins Peppery Beef Kebabs
Here's the Recipe…


Ingredients
Spice Rub
1 tbsp/30 mL Watkins Black Pepper 170 g
1 tbsp/30 mL cumin
1 tsp/10 mL chili powder
2 tsp/10 mL curry powder
2tsp/10 mL Watkins Coarse Sea Salt, freshly ground
1 tsp/5 mL paprika
1 tsp/5 mL allspice
1/2 tsp/2.5 mL cayenne pepper
1 tsp/5 mL Watkins Cinnamon 170 g

1 lb/1.4 kg sirloin, cut 1-inch/25mm cubes
Bell peppers, onions, mushrooms or vegetables of choice cut into chunks.

Cooking Directions
In small bowl stir together all spice rub ingredients. Sprinkle sirloin with about 2 tbsp/30 mL spice rub. Reserve remaining rub in airtight container for future use. Thread beef onto skewers along with vegetables. Grill or broil turning occasionally, until meat is cooked to desired doneness about 5 to 7 minutes. Serve atop a bed of cooked couscous or rice.
So, now, all You need are the Ingredients!
Get Your Watkins Products when you
Visit our Canadian Watkins Catalog or Visit our Watkins Catalog for the USA
Do you enjoy Food, Cooking, Baking, sharing Recipes?
We're looking for Watkins Consultants to help care for Customers in Your area!
Are You, or do you know of someone, looking to earn some extra income?
If so, contact Independent Watkins Manager Brian Hurlburt (ID#342198)
Toll Free at 877-822-8463.