In November, I had a contest for our Watkins Products Team Members and they had a chance to win a Set of Genuine Swarovski Elements, 14kt White Gold Plated Aquamarine Earrings (A $59 Value)
Our Watkins Consultants were asked to
1.  Sponsor a New Watkins Associate
2. Hold a Watkins Living Natural ("Tasting") Event
3. Reach a New Level (Beginning with Bronze Consultant)
4. Or Help one of their Associates to do one of the above
So, every time they did one of these things, and let me know they did it, they were entered in the Free Draw for these Earrings!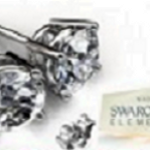 A Set of
Genuine Swarovski Elements
14kt White Gold Plated
Aquamarine Earrings
(A $59 Value)
We had 11 of our Watkins Team Members earn the entry and we did a random draw using the Mauve Random Chooser.
We want to thank all who participated, congratulations to all who earned an entry by growing your business, helping your Team Members, and helping your customers (Host/ess')
Get Free Watkins Products by holding Watkins Tasting Events!
Finally, a heartfelt congratulation to Watkins Consultant Susanne Winters,
who was Awarded the Swarovski Earrings!