Watkins Announces Official Launch Date For New Dietary Supplements as 15 May 2013.
Watkins Products have been trusted for Generations, every since introducing the very first Product, Dr. Ward's Red Liniment, in 1868. Watkins has been trusted for top quality products every since! In fact, Watkins was the first Company ever, to offer a 100% Satisfaction Money Back Guarantee!
If a Watkins product used in your home
is, for any reason, considered not to be satisfactory,
please return the product to Watkins Incorporated
for a full refund of your purchase price.
Now, with that guarantee, you can't go wrong with Watkins
New Dietary Supplements, because you know you'll be getting the very best!
In Fact, Watkins Guarantees it!
Here's to Your Good Health, here are …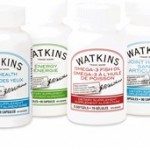 These New Watkins Dietary Supplements will be available May 15, 2013
We want to keep You to be "In the Know!"
So, we suggest you Request Our Free Customer Newsletter
And we'll be sure to keep you posted as to the Availability,
Benefits of using the New Watkins Dietary Supplements,
And any Specials, or ways to save on these, and other
Watkins Products!
Request Our Free Customer Newsletter Here
Have questions?
Please Contact:
Independent Watkins Manager
Brian Hurlburt (ID#342198)
Toll Free: 877-822-8463