Use J.R. Watkins Naturals Baby Care line to care for your little one without worry.
Made with ingredients as wholesome and harmless as your baby,
100% Natural, free of synthetic preservatives, fragrances, and dyes!
Watkins Baby Care Line includes
100% Natural Baby Oil, Baby Wash, Soothing Baby Balm, and Baby Lotion!
Watkins Baby Care—Natural from the start… and now on sale!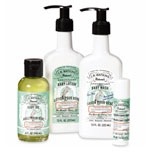 To see all Watkins has to offer please see our…
Watkins Products Canadian Catalog
Watkins Guarantee…
"If a Watkins product used in your home is, for any reason, considered not to be satisfactory, please return the product to Watkins Incorporated for a full refund of your purchase price."
When was the last time You saw a Watkins Rep in Your area?
That's why we need someone there!
If You, or someone You know, "Love Watkins Products"
And would like a fun way to earn some extra income,
Please contact Independent Watkins Manager
Brian Hurlburt (ID#342198)
Toll Free 877-822-8463