I feel like singing, "It's a small world after all!"
We have two Denise Leblanc's on our Watkins Team and both are succeeding at Watkins!
In an earlier Post I wrote about Denise E. Leblanc and now I'm very pleased to tel you about Denise M. Leblanc of Concessions, Digby County, Nova Scotia. Which is near Church Point in the Acadian Region of Clare, Nova Scotia. An Acadian Region of Nova Scotia more commonly referred to as the French Shore.
Denise M. Leblanc says, "I had been off work and I was looking for something to keep me busy out of the home. I was visiting the Women's Interlude in Yarmouth when I stopped by Michelle Hurlburt's table. The Watkin's products brought a lot of memories of when I was young. I loved those products! After a few weeks, I spoke with Michelle, organised a house party (A Watkins Good Tasting Event) and ended up being a Watkins Consultant. Because of being a volunteer for over 30 years, I have many contacts and most of these people support me 100%. As a Watkins Consultant I am able to meet new friends, see old friends and have fun all the while. My goal was to Watkinize my home, meet new friends and renew old friendships and have fun doing it all. Now I want to be known as the "Watkins Lady" and be greated like that!"
Well Watkins Lady, Denise M. Leblanc, you deserve to be call ed that and you also deserve to be called a Watkins Gold Consultant! This Watkins Lady joined Watkins in April 2012 and very quickly started holding and enjoying Watkins Tasting Events. Events where the Host/ess can receive up to $200 or more in Free Watkins Products just for having a few friends over while a Watkins Consultant comes to share some Watkins Food Items and everyone enjoys a fun, relaxed, get-together while learning about Watkins Products with friends! The Host, or Hostess, can earn from 10% – 30% in Free Watkins Products, paid for by Watkins, while the Watkins Consultant earns up to 39% in Event Sales!
By holding Watkins Good Tasting Events and attending the Belliveau's Cove Farmers Market (Le Marché à L`Anse-des-Belliveau) Denise M. Leblanc not only reached, but has been maintaining Gold Consultant Status with Watkins! To be paid as a Gold Consultant, Watkins Consultants need to have at least 1,000 Monthly Product Points, or approximately $1,400 per month in Canada. Watkins Gold Consultants earn 32% on their own sales, up to 7% on Group Sales, and earn Performance Reward Points that can be redeemed for Prizes, Travel, and Cash at Watkins Leadership Conference.
We look forward to seeing Denise M. Leblanc's future with Watkins, and if you know Denise M. Leblanc, or if your in the Region de Clare, a well-known Acadian region, which occupies the western half of Digby County, Nova Scotia, we invite you to…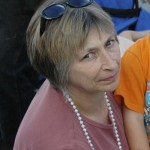 Contact:
Gold Consultant
Denise M. Leblanc
(ID#396006)
For Watkins Products & Recipes
Phone:
902-769-2415