I'm always trying to find creative promotions as a key part of our Watkins Products Business. Engaging in new and interesting ways of reaching out to both new, and existing Watkins Products Customers. I especially enjoy doing this in a manner that helps other people online. Not just in finding Watkins Products!
One of my Favorite Methods is using TripAdvisor! Yes, the place to go online to find Reviews by people who have been there! While there may be some who take these reviews lightly, I enjoy reviewing places, restaurants, and attractions, as You can see by my Trip Advisor Profile here… https://www.tripadvisor.ca/members/BrianHurlburt
I'm writing this Blog Post after receiving the following from TripAdvisor.ca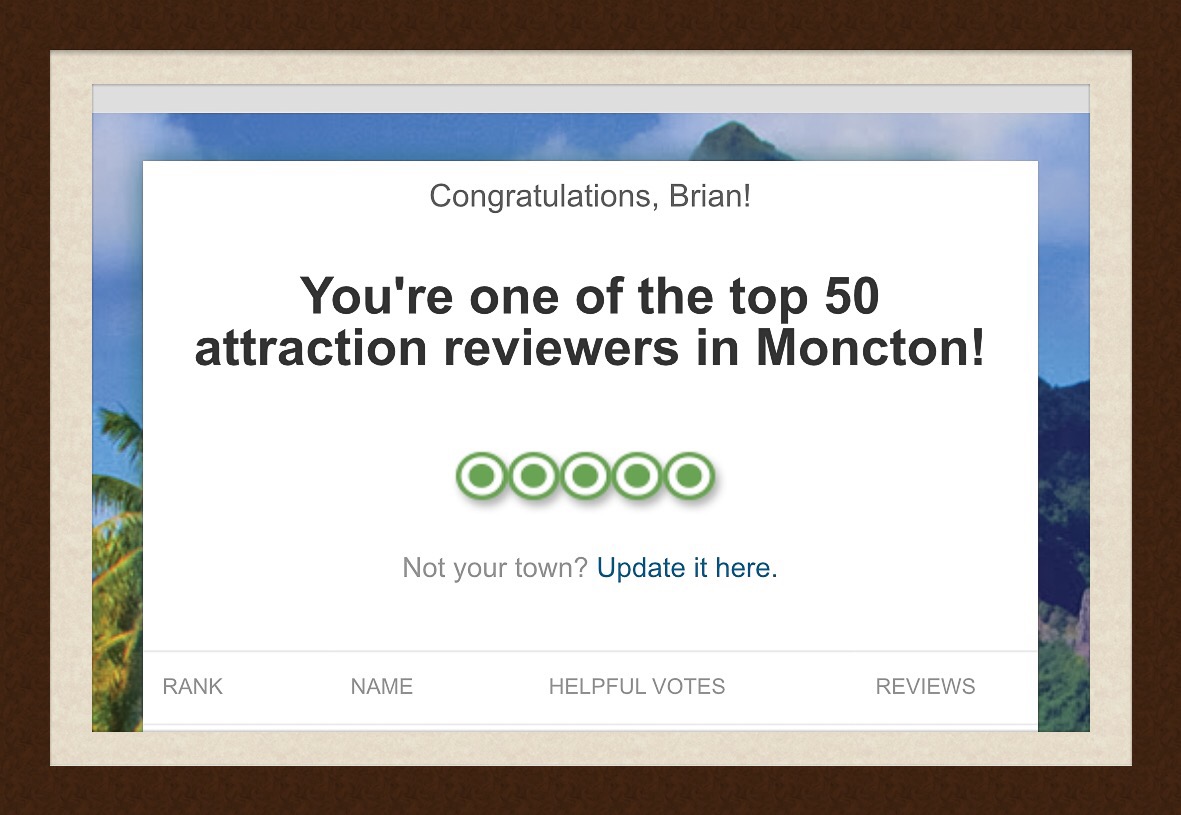 So, by now You may be wondering how does reviewing Restaurants, Attractions, and other things on TripAdvisor help promote our Watkins Products? Good Question!
Not only do I get to foster good relations with the businesses, restaurants, and other places I review, but those reading my Reviews get to See My TripAdvisor Profile. When You read my Profile you'll see that…
I've travelled 38 US States, 10 Canadian Provinces, and have visited St. Martins in the Caribbean, Isle Mujeres, Mexico, and soon to experience Playa Mita, Mexico! As an Independent Watkins Products Manager (ID#342198) I have the opportunity to eat out quite often, both for pleasure, and for Business, and to travel to many destinations, and stay at various lodging establishments. This lends itself perfectly for my love of Food, Travel, and Exploration, as does TripAdvisor! It all plays together well, for a well rounded outlook on life, and the places I review.
So, what do they see? They come to my Profile to see who is doing the Review, and see that not only am I well travelled, but that I am an Independent Watkins Products Manager (ID#342198). Now, for those wanting Watkins Products, all they have to do is search for Brian Hurlburt Independent Watkins Products Manager (ID#342198) and guess what comes up…
Click Here to See the Results!
Now, no matter what Business You want to Promote Online, by now it should be becoming obvious how you can help yourself, and your Business, by helping others with TripAdvisor! Pretty neat, isn't it!?
This is just one of the many ways we creatively reach people with our Watkins Produts Business! In fact, th marketin methods we ur are so effective we need help! We need people who want to work from home, to join our Team of Watkins Products Consultants to help us better serve our growing list of Watkins Products Customers, and to help us further expand our Customer Base and Watkins Poducts Consultant Team. If You, or someone you know, would make a great Watkins Products Consultant, or if you have questions, or would like to order Wakins Products, please contact me…