Congratulations to Sue Lessard on Becoming a New Gold Manager with Watkins Products Company!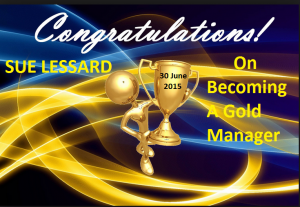 Sue Lessard joined our Team of Watkins Products Consultants in October 2012 and did not expect the success she and Her Team have found! In fact, in the spring of 2013, after seeing Sue's consistent effort in placing orders, and engaging in other aspects of Her Watkins Business, I asked Sue if she would like to join our Manager Program (Unique to our Team). It was, with some reluctance, that Sue said, "Yes". Since that time Sue has developed a Team of 411 Independent Watkins Products Consultants! This is incredible, as it took Us about 5 years, to grow our Team to over 400 Consultants, and Sue did it in half that time! It took Sue just 2-1/2 Years to build Her Team to over 400 Team Members! (Well Done Sue)
Sue is the first one to say she could not have done it without her wonderful team members, and their ongoing efforts. Sue is also quick to recognize that being part of our Team has helped her to further develop her skills and her Team of Independent Watkins Products Consultants.
For Me, Independent Silver Manager Brian Hurlburt (ID#342198), it is an incredible opportunity to know we can help people succeed. On our Team of 575 Independent Watkins Products Consultants, there are 12 independent Managers, and the way I've structured our Team, most, if not all, of them, earn as much as I do! This too is pretty unique to our Team! As is our ability to work as a Team and to aid Sue Lessard in actually surpassing me on the Watkins Products Compensation Plan! This truly is one of my favorite things about Watkins… the ability to help our Team Members succeed, and even surpass us, and yet still be able to continue earning income on their, and our, Teams! How incredible is that! (Thanks Watkins)
Watkins truly provides an incredible opportunity, an opportunity to earn income of up to 56% from day one, an opportunity to help others do the same, and and opportunity to earn up to 12% on Team Sales!As a Result our Team has done about $427,000.00 in Team Sales over the past 12 months! (I think it might work!) 😉
Not only are there opportunities to earn, being an Independent Watkins Products Consultant also allows us the opportunity to help our Customers Save Money on their Grocery Bills, to use Watkins Products to address a number of ailments, reducing chemical and other sensitivities, while providing better, safer, and more economical, products for their Families!
Watkins has been helping Families, and aiding in the success of Watkins Products Consultants, for Generations, ever since 1868. So, today, we don't need to "Sell" Watkins Products, or "Convince" people to use Watkins Products! We just need to let people know they can get them from us and those who know them, want them, and they buy, and reorder, on a regular basis! Which all works together to build a successful Business with Watkins Products!
If you know someone looking to earn some extra income, retirement income, or other income, who would enjoy working with people in a fun environment, on a part time basis with flexible hours, we'd like to hear from them!
Have Questions?
Contact Me…

Independent Watkins Products Manager
Brian Hurlburt (ID#342198)
Toll Free 877-822-8463