It is with great pleasure that I write this Blog Post Congratulating Our Team On A Quarter Million Dollars In Watkins Products Sales!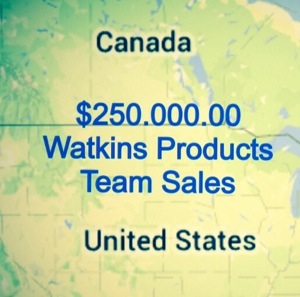 Over the past 11 months, in 2013, our Team of Watkins Products Consultants have worked hard, diligently plotting a course towards their own goals and aspirations. Our Team has grown to over 160 Watkins Products Consultants in 23 US States, and all 10 Canadian Provinces, with 8 Managers! A great tribute to the way we all work together as a Team to accomplish all of our Goals! 😉
I am truly blessed to be working with, and managing a group of such fine individuals.
I am forever thankful for each of our Team Members, and of course to each of our, and their, Customers!
Do we have a Watkins Products Consultant near You? Click Here to find out now!
If not, please consider what becoming a Watkins Consultant may mean to You!?
If You would like to
Receive a Watkins Sales Catalog,
Discover how You can Save 25% on all Your Watkins Products,
or Join our Team and earn up t0 39%
Please Watch our Intro Video


Jot down Your questions, and contact me…



Independent Watkins Manager
Brian Hurlburt (ID#342198)
Toll Free 877-822-8463