Chocolate Almond Pudding Dip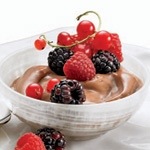 Ingredients
1/4 cup/60 mL
1/4 cup/60 mL sugar
1/4 cup/60 mL water
1 cup/250 mL skim milk
1/2 cup/125 mL sour cream
1/2 tsp/2.5 mL Watkins Almond Extract
1/4 tsp/1.2 mL Watkins Original Double Strength Vanilla
Watkins Products in Canada — Shop Now — Watkins Products in the USA

Cooking Directions
Combine dessert mix, sugar, water and milk in a medium saucepan; mix well. Cook over medium heat until pudding begins to boil and thicken. Pour hot pudding into a bowl. Let cool slightly; stir in sour cream along with extracts; mix well. Cover surface with plastic wrap and refrigerate 4 hours or overnight. Serve with graham crackers or fruit.
Save 25% Now on Almond Extract & Vanilla
Click Here to Add Me as a FaceBook Friend
Then…
Like Our Just Go Natural Page at FaceBook
And Message Me and Ask for my FaceBook Special on
Almond Extract and Our Original Double Strength Vanilla!
Do You love to Cook and Bake?
Do You love Natural, Organic, and Gourmet Products?
If You answered yes, to either of these questions,
Perhaps it's time for You to start saving 25%, or more,
On Your own Products, or
Start earning up to 39% enjoying what you do,
As a Watkins Products Consultant!
Need more information?
Contact
Brian Hurlburt (ID#342198)
Independent Watkins Manager
877-822-8463 (Toll Free)