Two days ago I came down with a cold, the second one in about three years, a real bad head cold.
I of course tried all the regular, and not so regular, cures and despite my dislike for popping pills, I even tried some decongestant the past couple of nights at bed time. I think it actual made my head hurt more!
So, last night, remembering my Watkins Medicated Ointment (Menthol Camphor) and that it had worked for my last cold. I remember being quite surprised last time, the Elders here spear Watkins Medicated Ointment on the bottom of their feet, put on a pair of wool socks, and go to bed! In the morning their cold is gone! (Or much better!)
Both times I've used it this way, I've also applied Watkins Medicated Ointment (Menthol Camphor Ointment) to my forehead, neck, back of neck, throat, and around my nose. Then went to sleep!
Both times, it worked!
Thing is, as an Independent Watkins Manager, and Business Leader, especially having had this worked before, it would be my go to…. But I buy into all the hype and hooplaw portrayed, promoted, and displayed in the mainstream media and on pharmacy shelves! Even when I should know better, it's easy to get drawn away by their promotions!
So, it's time to return to Watkins! Watkins Products that have been used for generations for colds, and other ailments, Watkins Products have been trusted for over 145 years, and with Watkins Products they are guaranteed to work! Backed by Watkins 100% Satisfaction Money Back Guarantee!
So, to get your Watkins Products, including


Watkins Medicated Ointment (Item#32358 in Canada)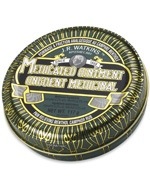 Watkins Menthol Camphor Ointment (Item#02358 in the USA)

Click here to shop to
Watkins Products in our Canadian Catalog
Or
Click Here to shop for Watkins Products in our US Catalogq

Have questions?
Contact:
Independent Watkins Manager
Brian Hurlburt (ID#342198)