What Could $200 a Month mean to You? That's a question that used to be asked a lot in reference to investing money!
However, these days with record low interest rates, where Bank Fees often cost more than interest earned, investing that way may not be the best use of your money! However, there is a way to have $200 a month Save us Tens of Thousands of Dollars!!! Look at these examples, for investing…
Here's a Chart from buyupside.com showing the power of investing even $50 a month at 6% Interest.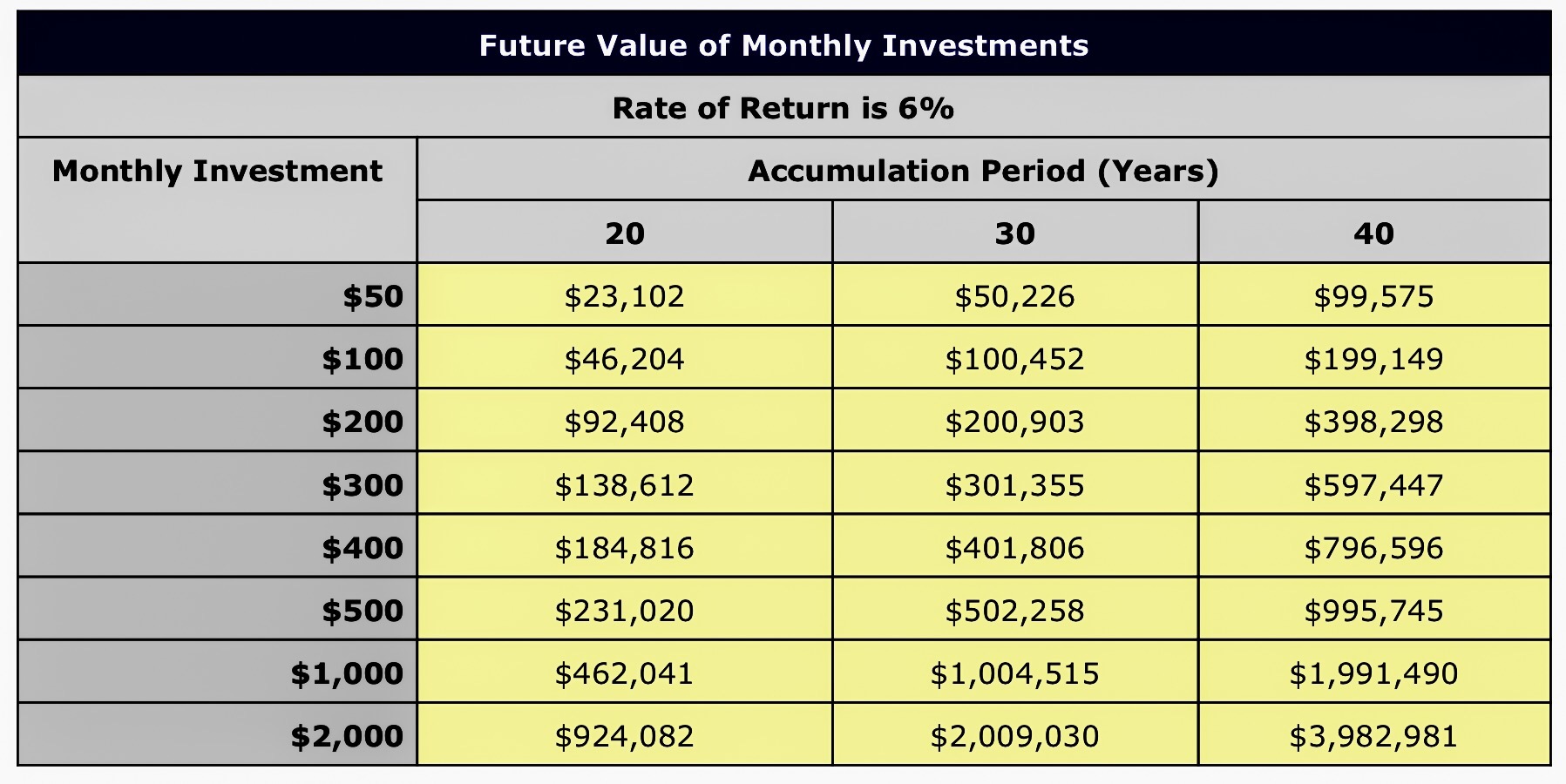 So, according to the Chart, an investment of just $50/Month can turn into over $20,000.00 in just 20 Years! Not Bad! 😉
Invest $200 a month and in 20 years at 6% You'll have nearly $100,000.00 (Very Nice… Right!?)
However, as I write this, the CIBC is boasting "Accelerate your savings with 1.75%* interest on new deposits into select accounts for a limited time." So, it's not likely You'll earn 6% on the money You put in your Bank Account!
Even if You could earn 6% on th money in Your Bank account, the monthly fees would eat up much of the interest you'd earn on small investments. Now, I'm no saying "Don't Invest Your Money", just be smart about it.
Now, let me show You what I consider to be a Smarter Way to Save Money!
First, though, let's look at these figures from the "2015 American Household Credit Card Debt Study" as seen on nerdwallet.com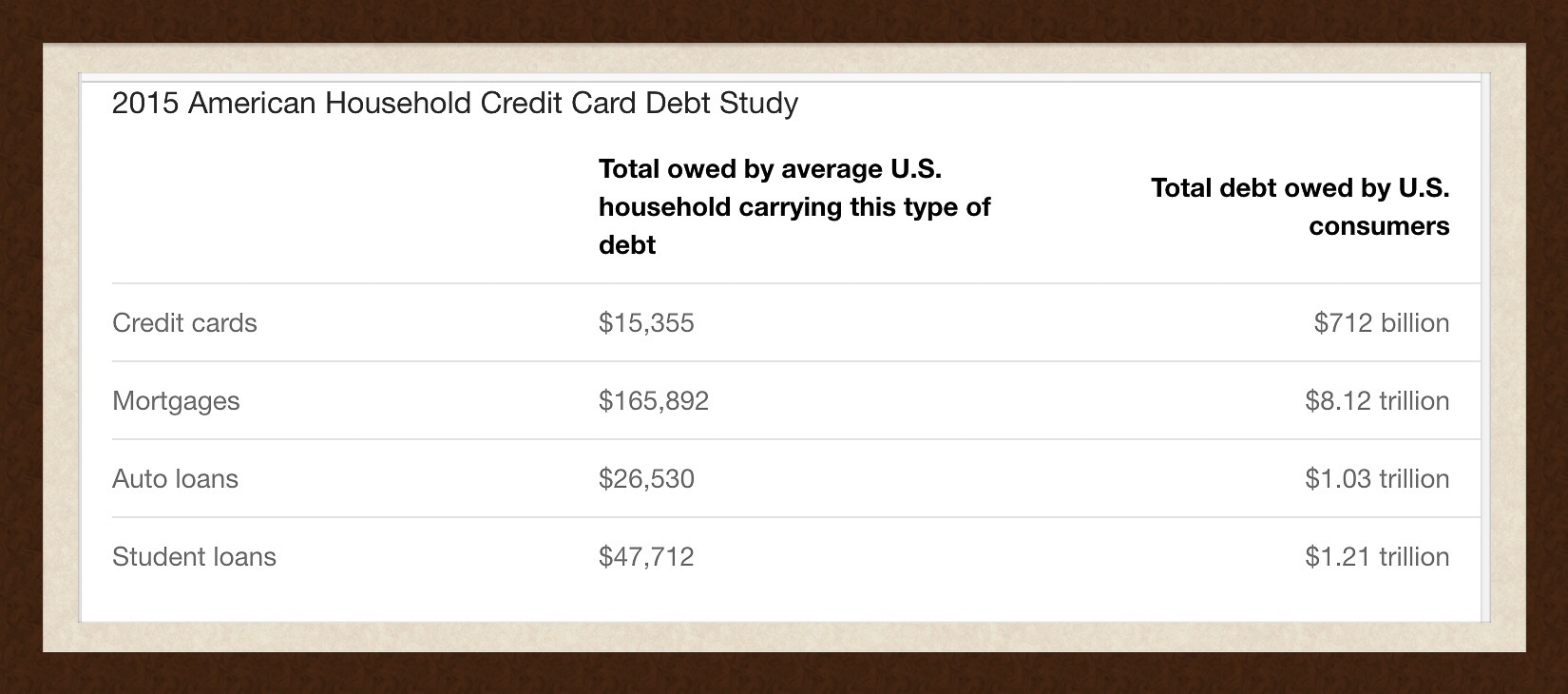 So, as you can see the average Family is Tens, if not Hunreds of Dollars in Debt! (No Surprise Really)
Now, let's look at the "Average Credit Card Purchase Interest Rate" as reported on valuepenguin.com 

So, there we go! On the Low end we can Save 13-15% simply by paying off our Credit Cards!
Now, let's look at what investing our money at 14% can do for us…
Above we saw how investing $50/month would become $23,102.00 in 20 Years at 6% and how difficult it is to earn 6%
However, when we take that same $20/mo and pay off our Credit Cards we accumulate over $25,000.00 in just 14 Years!
Try it for Yourself now using this "Recurring Investment Calculator"
Now, imagine what You can save with $200 a Month! Use th Calculator to check for Yourself! We can Save $100,000.00 in just 14 Years by paying off Our Debts! Even if we don't have that much Debt, it still applies, because we can pay off what we have and keep from incurring more! Right? (Or at least pay them off sooner) 😉
Now, there is still one problem …. Most people do not have $200 a Month to invest, or to pay off their Debts! I know this, because, if we did, we would not have so much Debt! Right? Most people don't go in debt buying Diamond Rings, Fur Coats, and Fancy Sports Cars! I believe most people incur debt, after debt, a bit at a time, paying for meals, gas, and other everyday expenses! Then, a bit at a time their debts go out of control! Right!?
So, how can we invest money we don't have? Or how can we pay off our debts with money we don't have?
The answer of course…. We Can't!!!
However, let me ask you a question, "Can You make one $20 Sale a Day?"
The answer is, "Of Course You can….If You want to!"
When You join our Team as an Independent Watkins Products Consultant and make just one $20 Sale a Day You'll earn about $200.00 a month! Use that money to pay off your Debts, and You can Save $100,000.00 or more! Right?
So, what's stopping You? Membership is Just $19.95! What have Yo got to loose?
Have Questions?
Please contact me…


Independent Watkins Manager
Brian Hurlburt (ID#342198)
Toll Free 877-822-8463