We Want You to Get $20 in Free Watkins Products!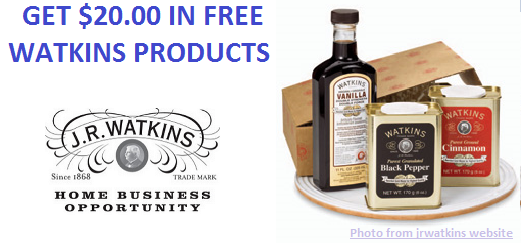 We've been with Watkins for over 5 years, and not only do we love doing this as a Business, we also enjoy the savings we get on our Grocery Bills! We save up to 47% on things we use every day! Things like Watkins Vanilla, Watkins Pepper, Watkins Cinnamon, Medicated Ointment, Petro Carbo Salve, and more! Even if We didn't get a Discount, these Products are so good, and so economically priced, it just makes sense to shop at Watkins!
Knowing this, Watkins wants You to not just save as a Retail Customer, but to get a Discount of up to 47% on Your Watkins Products too! That's why Watkins does not require their Members to order any certain amount of Watkins Products to keep their Membership Active! People who have a Watkins Membership are not required to place orders, and they do not have to sell products! Watkins just knows that when Members use Watkins Products, they'll continue to use them! Thus Watkins has many "Watkins Products Consultants" (that's what everyone who has a Watkins Membership is called) just order for themselves! A true testament to both the quality and and savings available to Watkins Consultants.
To sweeten the pot, and tempt you to get your Watkins Membership this month, March 2015, Watkins is going to give $20.00 in Free Watkins Products to Everyone who gets a Membership in March!
Now, let's think about that for a minute!
Watkins Membership is just $19.99, and when You get Your Membership in March… Watkins is going to give You $20.00 in Free Watkins Products! So, when you really think about it… it's cheaper for You to get Your Watkins Membership, then choose $20.00 in Free Products, than it is just to order $20.00 in Products!
Kind of a "No Brainer" … Isn't it! 😉
Click Here to get started with our Respected Home Business Now
(You'll be asked to enter an ID#, enter the ID# of the person who sent you here,
or Enter My ID# 342198
Now, perhaps You, or someone You know, is looking for a way to earn an income!
Imagine, what it would be like, to earn income selling Watkins Products.
Products so good, people have been using them for Generations! Since 1868!
Want More Info on Earning an Income with Watkins Products?
(CLICK HERE)
Have Questions?
Contact Me…

Independent Watkins Manager
Brian Hurlburt (ID#342198)
Toll Free 877-822-8463