Watkins Red Liniment, or as it's called today, Watkins Pain Relieving Liniment, was …
The Product That Started It All, Wash and iron; cook and clean; repeat. Such was life for many women in 1868. But times were changing. Elizabeth Blackwell opened the first Women's Medical College. Louisa May Alcott captured the period's ideals and values in Little Women. And, hard-working wives and mothers with tired, aching muscles found relief in a new, all-natural liniment manufactured and sold by Joseph Ray Watkins.
Working out of his Plainview, Minn., home, J.R. Watkins made the one-of-a-kind pain reliever with camphor from evergreen trees and capsicum from red peppers. Still sold today, as Watkins Pain Relieving Liniment, it is now 96.5% natural and uses eco-friendly packaging.
From humble beginnings in Plainview, Minn., to a multi-national company, one thing has always stayed the same: Our commitment to making hard-working products from high-quality natural ingredients.
From the beginning, J.R. Watkins has been committed to "The Watkins Way" of providing high-quality products and excellent customer service. Backed by what we believe to be the worlds first ever 100% Satisfaction Money Back Guarantee!


Watkins first introduced the



"Trial-Mark Bottle"
and money-back guarantee in 1869.

Watkins gave customers a risk-free way to try his products by adding a molded "trial mark" to each bottle. Customers who used the natural products and stayed above the mark could get a full refund.
The very first product sold by J.R. Watkins in 1868 continues to deliver natural pain relief. We've updated the product formula to remove all traces of artificial red coloring, making this one-of-a-kind pain reliever 96.5% natural. Our quick-absorbing formula uses all-natural camphor and red pepper extract (capsicum) to stimulate nerve receptors that feel heat. This masks your feelings of pain to relieve minor muscle aches, soreness and stiffness.


Watkins Red Liniment – Item #32317
(Now called Watkins Pain Relieving Liniment)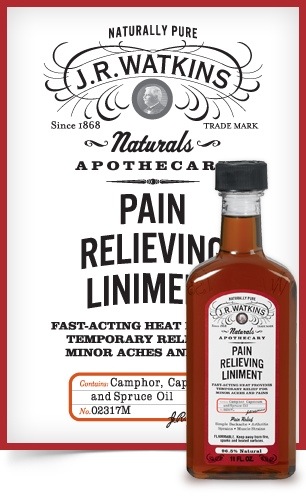 Absorbs quickly for fast relief!
The Red Pepper Extract (capsicum)
makes this a hotter formula …
So pat, don't rub!
Eco-friendly formula and packaging
(11 oz/325 ml)

Truly one GREAT Product, steeped in History, backed by Watkins Satisfaction Guarantee, and providing relief for over 145 Years… The very Product J.R. Watkins staked His reputation on!
Try it today… You have nothing to loose but Your Pain!

Contact Independent Watkins Manager

Brian Hurlburt (ID#342198)
Call Toll Free 877-822-8463