With the raving reviews you'll receive when you serve these Watkins Pumpkin Cream Puffs will bring you, it'll be all you can do not to get all puffed up! Just sit back, relax, and know that with Watkins Products it's easy to bask in awesomeness while displaying your great taste!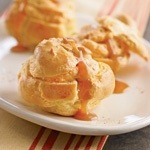 Watkins Pumpkin Cream Puffs
Ingredients:
Puff Pastry
3/4 cup/180 mL water
6 tbsp/90 mL butter or margarine
2 tsp/10 mL sugar
1/8 tsp/0.5 mL salt
3/4 cup/180 mL all-purpose flour
3 eggs
1 1/2 tsp/7.5 mL Original Double Strength Vanilla Extract
Pumpkin Filling
1 cup/250 mL whipped cream
3 tbsp/45 mL sugar
1 tsp/5 mL pumpkin pie spice
1 cup/250 mL canned pumpkin
Make your own Watkins Pumpkin Pie Spice.
Simply mix ingredients together and store in an airtight container.
1 1/2 tsp Cinnamon 170 g
1/2 tsp nutmeg
1/4 tsp ground cloves
1/2 tsp ground ginger (scant)
Maple-Caramel Sauce
1/2 cup/125 mL packed brown sugar
1 tbsp/15 mL corn starch
1/3 cup/75 mL half-and-half
1/4 cup/60 mL water
2 tbsp/30 mL pure maple syrup
1 tbsp/15 mL butter
1/2 tsp/2.5 mL Original Double Strength Vanilla Extract
Cooking Directions
Puff Pastry
In medium saucepan, combine butter and water. Bring to boil over medium heat. Stir in flour, salt and sugar; cook, stirring constantly, until mixture leaves sides of pan in a smooth ball. Remove from heat and allow to cool slightly. Add eggs one at a time, beating vigorously after each addition, until mixture is smooth and glossy. Stir in vanilla.
Preheat oven to 400°F/205°C. Using either a pasty bag or tablespoon, form the puffs on a greased cookie sheet. Using the back of a spoon, flatten any points. Makes 12 puff pastries. Bake for 25 to 30 minutes or until golden and crisp. Remove puffs from oven and cool on wire racks.
Pumpkin Filling
In a large chilled bowl combine whipped cream, sugar and pumpkin pie spice with chilled beaters until soft peaks form. Fold in 1 cup/250 mL canned pumpkin.
Maple-Caramel Sauce
In a small saucepan stir together brown sugar, corn starch, half-and-half, water, maple syrup, and butter. Cook and stir over medium heat until slightly thickened and bubbly. Cook and stir for 2 minutes or more. Remove from heat; stir in vanilla
Cut puff pastry in half, fill with pumpkin filling and top with caramel sauce.
Serves 12
So, now, all You need are the Ingredients!
Get Your Watkins Products when you
Visit our Canadian Watkins Catalog or Visit our Watkins Catalog for the USA
Do you enjoy Food, Cooking, Baking, sharing Recipes?
We're looking for Watkins Consultants to help care for Customers in Your area!
Are You, or do you know of someone, looking to earn some extra income?
If so, contact Independent Watkins Manager Brian Hurlburt (ID#342198)
Toll Free at 877-822-8463.