Watkins Products Specials For Customers In Canada for January, 2013.
For a full listing of January Product Specials please see our Watkins Catalog for the USA.
If You're from The USA, you can click here to see
Watkins Specials for Canadian Customers
Watkins Natural, Organic, & Gourmet, Grocery Items
Watkins has been the pioneer in premium vanilla and extracts for over a century. Our vanilla is made from the world's finest Madagascar Bourbon vanilla beans, so it's only natural that we would offer the same great product, but in a USDA certified premium organic form.

USDA Certified Organic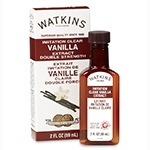 Madagascar Bourbon Pure Vanilla Extract
00402 (2 fl oz/59 mL) $10.99 SPECIAL $8.99

Gourmet Extracts and Flavorings
These quality extracts are concentrated
and all backed by the same expertise that has made
Watkins Vanilla the choice of generations. (2 fl oz/59 mL)

60434 Cinnamon – 60435 Coconut – 60436 Maple – 60438 Raspberry –
60439 Root Beer – 60389 Vanilla (Clear) – 60442 Vanilla Nut
$4.19 each
See All These Watkins Extracts Now

—————————-

Watkins All-Natural Gourmet Onion & Garlic Pepper and Garlic Herb Seasoning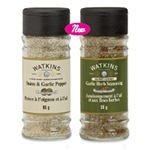 Onion & Garlic Pepper Article No. 32006 (2.29 oz./65 g)
The great combination of onion and garlic joins our premium granulated pepper for an all-purpose savoury blend with No Sodium!
Garlic & Herb Seasoning Blend Article No. 31912 (1.98 oz./56 g)
Our garlic & herb blend boasts a combination of savory herbs with a splash of garlic.
Use as a rub for chicken, pork and turkey.
Save on Onion & Garlic Pepper and Garlic Herb Seasoning! SPECIAL $6.99
—————————-
Watkins Peppercorn Grinders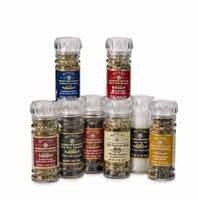 Satisfy your craving for seasonings with Watkins grinders. These disposable grinders have a unique, eye-catching design, and the top-quality ingredients inside will please your palate. The grinders are convenient and easy to use—just twist to grind.
00531 Coarse Sea Salt (3.1 oz/90 g)
00532 Four Peppercorn Blend (1.6 oz/48 g)
00533 Garlic Peppercorn Blend (2.2 oz/65 g)
00530 Whole Black Peppercorns (1.7 oz/50 g)
00534 Chicken Seasoning (1.9 oz/54 g)
00540 Pizza & Pasta Seasoning (2.05 oz/58 g)
00538 Seafood Seasoning (1.94 oz/55 g)
00541 Steak & Chops Seasoning (1.9 oz/54 g)
$6.99 each

Purchase any two Watkins Grinders listed, get one Garlic Peppercorn Grinder for $3.49

—————————-

Watkins Dessert and Frosting Mixes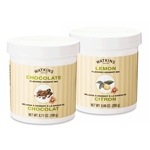 Get all the goodness of homemade—with the convenience of a mix!
Stock your pantry and create luscious puddings, pies, sauces, fillings and frostings
that taste just like homemade, but without the hassle. Recipes included.
• Makes 17-37 servings per can
21014 Chocolate (6.71 oz/190 g)
21016 Lemon (9.88 oz/280 g)
$11.49 each SPECIAL $10.49 each
Save $1.00 on Dessert and Frosting Mixes!
—————————-
Warm-up with Watkins Mushroom Soup and Gravy Base!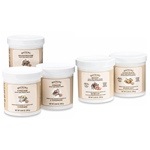 Handy building blocks for delicious home cooking! Whip up delicious stocks, gravies and sauces without hassle. Real mushrooms and other wholesome ingredients provide homemade flavor without expensive canned soups and overly-salty bouillon cubes. Enjoy a quick cup of soup or create easy, flavorful entrées and side dishes by adding items from your pantry.
21177 Mushroom (7.58 oz/215 g) • Makes up to 50 servings per can
$11.99 each SPECIAL $10.99 each
Watkins USA Personal Care Product Specials for January 2013
J.R. Watkins Hand & Body Creams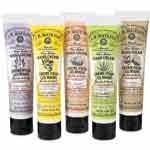 J.R. Watkins Hand & Body Creams provide your skin with the ultimate moisturizing experience. Natural shea and cocoa butters are whipped together with more than 10 natural oils and extracts to protect, soothe and condition your skin. The convenient tube is perfect for anyone on the go. (3.3 oz/95 g)
• 96-98% natural
• Suitable as an all-over moisturizer
• Ideal for rough areas
40507 Aloe & Green Tea
40508 Lavender
40509 Lemon Cream
40516 Mango
40510 Vanilla
$10.99 each SPECIAL $9.99 each
Save Now on Watkins Hand & Body Creams
—————————-
Watkins Shampoo, Conditioner, and Body Wash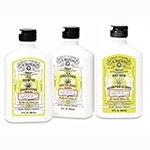 Purchase one Aloe & Green Tea Shampoo (23326) $12.99
and one Aloe & Green Tea Conditioner (23327) $12.99
get one Aloe & Green Tea Body Wash for $6.99
See all 3 – Watkins Shampoo, Conditioner, and Body Wash
—————————-
NEW Watkins Apricot and Pequi Oil Body Butter!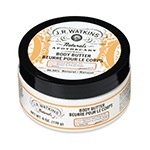 Nourishing apricot kernel oil provides long lasting moisturization,
while anti-oxidant rich pequi oil works to protect, soothe and smooth skin.
Extracted from the seeds of pequi fruit that grow abundantly in Brazil,
pequi oil is rich in a unique combination of essential fatty acids and vitamins A and E.
Save on Watkins NEW Apricot and Pequi Oil Body Butter Item 20561 $12.99 SPECIAL $11.49
—————————-
Watkins Sugar and Shea Body Scrubs and Lavender Crème Bath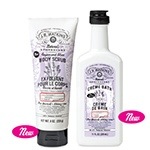 Save on Sugar and Shea Body Scrubs and Lavender Crème Bath!
Purchase one Lavender Sugar Scrub, get one Lavender Crème Bath for $7.99
—————————-
Watkins Body Oil Mists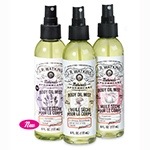 These rich, moisturizing sprays leaves your skin feeling soft and smooth.
Formulated with apricot kernel oil and vitamin E to
nourish your skin with essential nutrients it needs.
Oil is quickly absorbed by the skin, it leaves a dry yet soft feel.
• Perfect for dry skin
(6 fl oz/177 mL)
20447 Coconut Milk & Honey
20444 Grapefruit
20452 Lavender
Save on Watkins Body Oil Mists SPECIAL $8.99 each!
—————————-
Watkins Baby Care—Natural from the start… and now on sale!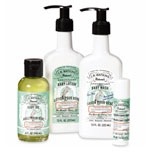 Use J.R. Watkins Naturals Baby Care line to care for your little one without worry.
Made with ingredients as wholesome and harmless as your baby,
free of synthetic preservatives, fragrances, and dyes.
Watkins Baby Care Line includes
100% Natural Baby Oil, Baby Wash, Soothing Baby Balm, and Baby Lotion!
Watkins Remedies
Watkins Cough Syrup & Decongestant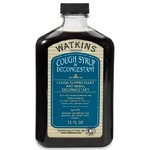 Contains dextromethorphan as a cough suppressant plus phenylephrine to relieve nasal congestion. Helps relieve tickling in the throat. Non-habit forming. Old-fashioned wild cherry and pine flavor.
32319 (12 fl oz/355 mL)
SPECIAL $12.99
Save on Watkins Cough Syrup & Decongestant!
—————————-
Watkins White Cream Liniment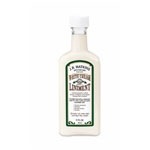 This effective pain relief formula uses evergreenbased counterirritants to provide temporary relief from arthritic aches and pains, as well as muscle strains, aches, and soreness caused by exertion.
• Cream lotion: won't dry the skin; leaves it feeling soft and smooth
• Rubbing formula: rub into skin to stimulate circulation
32316 (11 fl oz/325 mL) $16.99 SPECIAL $14.99
Save $2.00 on Watkins White Cream Liniment!
—————————-
Save on Watkins Menthol Camphor Cough & Cold Products!
Menthol Camphor Relief Mist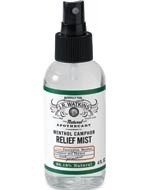 Diffuse the comforting vapors of our famous ointment in a Mist in the air you breathe! Our natural penetrating blend of menthol, eucalyptus, camphor and thyme brings a welcome relief to any room, especially during cold season. • 96.18% natural – Over 600 sprays
32340 (4 fl oz/120 mL)
Save On Menthol Camphor Relief Mist – SPECIAL $9.99
Menthol Camphor Bath Soak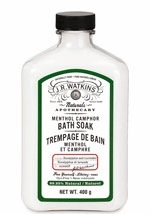 Soothe away aches and pains with this natural soak. The comforting oils of lavender and eucalyptus are blended with menthol and camphor to offer the ultimate in relaxation. Just add a bit of this unique blend to soften bath water and bathe in welcome relief. 32305 (14 oz/400 g)
• 99.25% natural
• Safe for hot tubs and spas
• Helps to reduce chills
• Will not harm surface water, safe for aquatic life
• Eco-friendly formula and packaging
Save on Watkins Menthol Camphor Bath Soak – SPECIAL $10.99
Menthol Lavender Drops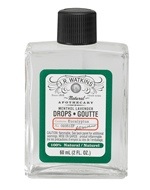 Purifying menthol and lavender vapors help clear your head and let you breathe easier. Put a few drops of this non-staining blend on a handkerchief, tissue or pillowcase. Known as the "vest-pocket doctor" since its introduction as "Inhalant" in 1934. Goes with you anywhere, anytime you need an aromatic pick-me-up. 02351 (2 fl oz/60 mL) • 100% natural
Save on Menthol Lavender Drops – SPECIAL $16.99
Medicated Ointment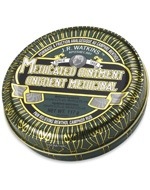 This cooling, soothing product has been
making people feel better for more than 90 years.
It helps relieve that stuffedup, congested feeling of a chest cold
and suppresses the accompanying cough.
Provides temporary relief from…
backache • lumbago • strains • bruises • sprains • arthritic pain• rheumatic pain
32358 (4.13 oz/117 g)
Save on Watkins Medicated Ointment – SPECIAL $9.99

Watkins Home Care
Watkins All Purpose Wipes!
Convenience and natural cleaning power are combined in one ready-to-use, all purpose wipe. No water, suds or rinsing required! Effortlessly wipe away dirt and grime with these durable and disposable wipes. And because they are biodegradable, you can toss them without harming the environment. Put these convenient wipes to the test on spills all around the house. (35 wipes)
• Kitchen • Bathroom • Dining room • Garage Plus, keep a pack in the car for spills on the road!
Purchase an Aloe & Green Tea (26701) or Lemon All Purpose Wipes (26702) for $8.79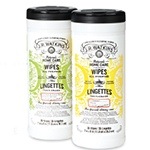 Get a second, same scent, Watkins Wipes for $4.49
—————————-
Watkins Orange Citrus Tub & Tile Cleaner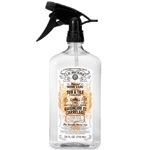 Just a light mist of J.R. Watkins Natural Citrus Tub & Tile Cleaner will leave your bathroom tub, tile and fixtures spot-free! It contains No Phosphates, so it won't irritate sensitive skin like other cleaners!
Drive away hard water stains and soap scum with this environmentally-friendly cleaner that's safe for septic systems!
You wouldn't put dangerous chemicals on your skin; why use them to clean your shower?
16788 (24 fl oz/710 mL)
Purchase one Tub & Tile Cleaner, for $5.49, and get the second for $3.49
—————————-
Watkins Traditional Personal Care
Traditional Watkins Products are not as "Green & Natural" as Watkins Natural Products, but Customer Demand continues to see some Traditional Watkins Products remain on the market. It's hard to let go of a good thing when "It works so darn good!"
Watkins Ultra-Rich Hand Cream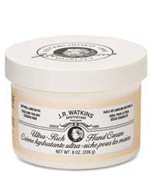 The driest, roughest skin needs the most intensive moisturizing available.
When hands and heels, elbows and knees are severely chapped or plagued by painful cracks and splits, Watkins has the answer. Our rich formula with lanolin oil helps seal in skin's own natural moisture, leaving a protective barrier against the harshest conditions. 10484 (9.7 oz/275 g)
Save on Watkins Ultra-Rich Hand Cream – SPECIAL $8.99
Watkins Aloe & Green Tea Deodorant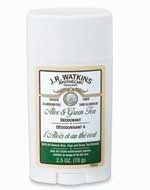 Unique aluminum-free formula uses coriander and sage extracts to
help tighten pores and eliminate body odor
without the irritation and drying of antiperspirant products.
10534 (2.5 oz/70 g)
Watkins Aloe & Green Tea Deodorant – SPECIAL $8.99
Watkins Traditional Home Cleaners
Watkins Traditional Degreaser & Watkins Traditional Toilet Bowl Cleanser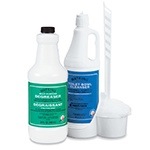 Watkins Traditional Degreaser is Powerful & Highly Concentrated
Versatile and cuts grease like nothing else, without harsh detergents. Easily tackles greasy stovetops, charcoal grills, bicycles, appliances, garage floors and more. Apply directly to clothing to remove stubborn grease and oil stains.
Highly concentrated Makes up to 64 gallons/250 liters!
Saves money and reduces packaging waste.
06785 (32 fl oz/946 mL)
Save on Traditional Degreaser! SPECIAL $12.99
Watkins Traditional Toilet Bowl Cleanser works on Extremely Hard Water!
Water with a high iron or mineral content — can result in embarrassing stains that are hard to remove with ordinary bowl cleaners. For the toughest jobs and the cleanest bowl possible, you need professional strength! 06795 (32 fl oz/946 mL) Caddy with Brush (Item# 06248) $5.99
Purchase one Toilet Bowl Cleanser, for just $14.99, & get the second for $7.99
Do You know You can get a Discount of at least 25%, even on Sales Items, Every time You Shop! You can, all you need to do is get a Watkins Membership for $39.95. Buy directly from Watkins, Receive a Discount of at least 25% Every Time You Shop for an Entire Year! Phone now Toll Free for Details…
Ph: Independent Watkins Manager
Brian Hurlburt (ID#342198)
877-822-8463