Watkins Peppercorn Grinders are one of the newer additions to,the Watkins Gourmet Herbs & Spices line, which date back to 1895, and were awarded the Grand Prize with Gold Medal for Highest Quality at the International Exposition, Paris in 1928.
Watkins Peppercorn Grinders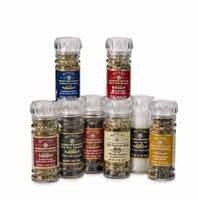 Satisfy your craving for seasonings with Watkins grinders.
These grinders have a unique, eye-catching design, and the
top-quality ingredients inside will please your palate.
The grinders are convenient and easy to use—just twist to grind.
00531 Coarse Sea Salt (3.1 oz/90 g)
00532 Four Peppercorn Blend (1.6 oz/48 g)
00533 Garlic Peppercorn Blend (2.2 oz/65 g)
00530 Whole Black Peppercorns (1.7 oz/50 g)
00534 Chicken Seasoning (1.9 oz/54 g)
00540 Pizza & Pasta Seasoning (2.05 oz/58 g)
00538 Seafood Seasoning (1.94 oz/55 g)
00541 Steak & Chops Seasoning (1.9 oz/54 g)
To see all Watkins has to offer please see our…
Watkins Products Canadian Catalog
Watkins Guarantee…
"If a Watkins product used in your home is, for any reason, considered not to be satisfactory, please return the product to Watkins Incorporated for a full refund of your purchase price."
When was the last time You saw a Watkins Rep in Your area?
That's why we need someone there!
If You, or someone You know, "Love Watkins Products"
And would like a fun way to earn some extra income,
Please contact Independent Watkins Manager
Brian Hurlburt (ID#342198)
Toll Free 877-822-8463