This Watkins Herb-Grilled Cornish Game Hens recipe is a Recipe found on our Watkins Web Site that I've tweaked, to include ingredients currently available from Watkins.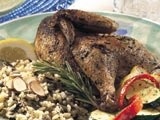 Herb-Grilled Cornish Game Hens
4 Cornish game hens, thawed
2 fresh lemons or limes
Watkins Chicken Seasoning (Tin or Grinder)
Watkins Onion Garlic Pepper

Wash hens and remove all skin and fat.* Flatten hens by whacking breast bone to break. Arrange hens on broiler pan (they may also be grilled). Squeeze lemon or lime juice over hens and season with remaining ingredients. Broil close to heat for 10–12 minutes. Turn over and broil 12–15 minutes more, or until juices run clear. Makes 8 servings, 1/2 hen each.
*(Kitchen note: We tried this recipe with skin on as well as off. The birds were just as succulent and flavorful without the skins, as with, so if you do not wish to eat the skin, we recommend cooking them without it to avoid removing most of the seasonings.)
So, now, all You need are the Ingredients!
Get Your Watkins Products when you
Visit our Canadian Watkins Catalog or Visit our Watkins Catalog for the USA
Do you enjoy Food, Cooking, Baking, sharing Recipes?
We're looking for Watkins Consultants to help care for Customers in Your area!
Are You, or do you know of someone, looking to earn some extra income?
If so, contact Independent Watkins Manager Brian Hurlburt (ID#342198)
Toll Free at 877-822-8463.