Watkins, Guilt Free Chocolate Peanut Butter Banana Ice Cream! Yes, Tis true! Made with Bananas, Watkins Cocoa, and Peanut Butter (Optional). Plus a few tips to make it even better!
I found the picture, originally, on [pinterest] and traced it back to UseRealButter.com where I found the recipe! Then of course, I started tweaking it using Watkins Products, and I think it's that much better! In fact I even found a way to make it a little healthier!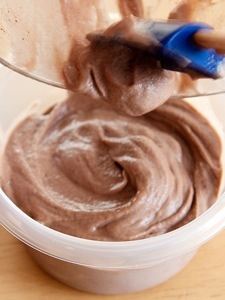 [pinterest]
See original Recipe at UseRealButter.com

Watkins, Guilt Free Chocolate Peanut Butter Ice Cream
4 bananas, just slightly overripe
2 tbsps creamy peanut butter (optional) or 1/2 Teaspoon Watkins Peanut Butter Extract
2 tsps Watkins Baking Cocoa Powder
Peel and slice bananas into 1/4 to 1/2 inch thick disks.
Place the banana slices in the freezer for about an hour or until they are frozen solid.
Put the frozen slices in a food processor and pulse until bananas begin to cream, scrape the sides down, as you continue to pulse till bananas turn to a creamy texture that looks like whipped ice cream. You may want to add a touch of milk to help cream.
Then, you mix in Watkins Baking Cocoa, and peanut butter, or for a low fat, healthier alternative, use Watkins Peanut Butter Extract (About a 1/2 Teaspoon, or to taste).
Feel free to experiment with other items, fruits, nuts, and flakes!
Straight out of the food processor, the ice cream is like soft serve. You can also freeze it for a firmer texture, give it a minute or two to soften up, before scooping if frozen.

Find More Great Recipes, and Meet the Cook, at UseRealButter.com
Get Your Watkins Products at …
Our Watkins Online Store for Canadians
Or if You're in the USA …
Shop our US Watkins Online Catalog

Do You "Love Watkins Products"?
Would You like to Save 25% every time You Shop?
Ask Us for Details…
Phone 877-822-8463 Toll Free
And ask for Independent Watkins
Manager Brian Hurlburt (ID#342198)