Watkins Gourmet Extracts and Flavourings have pioneered the industry for over a century.
Used for generations to makes family favourites like, hot cider, baked apples, homemade candies, coffee, tea, applesauce, potpourri, cookies, pies, cakes, frostings, milk shakes, chocolate milk, hot cocoa, fudge, iced tea, marinades, dressings, and more!
Watkins Gourmet Extracts and Flavorings are concentrated and high in flavouring content; full long-lasting flavour and strength, and backed by the same expertise and guarantee that has made Watkins the choice of generations for over 100 years
Watkins Guarantee…
If a Watkins product used in your home is, for any reason, considered not to be satisfactory, please return the product to Watkins Incorporated for a full refund of your purchase price.

USDA Certified Organic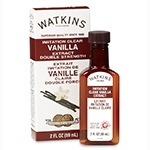 Madagascar Bourbon Pure Vanilla Extract
Item # 00402 (2 fl oz/59 mL)
Watkins has over 20 Flavours,
many hard to find, and many Pure Extracts as well.
To see all Watkins has to offer please see our…
Watkins Products Canadian Catalog
When was the last time You saw a Watkins Rep in Your area?
That's why we need someone there!
If You, or someone You know, "Love Watkins Products"
And would like a fun way to earn some extra income,
Please contact Independent Watkins Manager
Brian Hurlburt (ID#342198)
Toll Free 877-822-8463