Watkins Fudge Sauce makes a wonderful dessert, and helps turn a bowl of ordinary ice cream into something extraordinary! Try it on ice cream, bread pudding, or one of your other Favorites!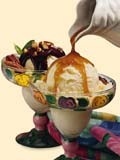 Watkins Fudge Sauce
Ingredients
3/4 cup/125 mL evaporated milk
1 package (6 oz/170 g) semi-sweet chocolate chips
1/2 cup/125 mL sugar
1-1/2 tsp/7.5 mL butter or margarine

Note from Kitchen:
For Coconut Fudge Sauce, stir in
2 tsp/10 mL Coconut Extract, 59 mL
along with butter.
Also try other Watkins Extracts, such as:
Raspberry Extract, 59 mL
Pure Orange Extract, 59mL
Pure Peppermint Extract, 59 mL
Cooking Directions
Heat milk, chocolate chips, and sugar in large saucepan over medium heat, stirring constantly until chocolate is melted and mixture begins to boil. Remove from heat; stir in butter. Pour into jars; cover tightly. Refrigerate no longer than 4 weeks. Serve warm or cold over ice cream.
Makes 1-1/2 cups/375 mL, 2 tbsp/30 mL per serving.
So, now, all You need are the Ingredients!
Get Your Watkins Products when you
Visit our Canadian Watkins Catalog or Visit our Watkins Catalog for the USA
Do you enjoy Food, Cooking, Baking, sharing Recipes?
We're looking for Watkins Consultants to help care for Customers in Your area!
Are You, or do you know of someone, looking to earn some extra income?
If so, contact Independent Watkins Manager Brian Hurlburt (ID#342198)
Toll Free at 877-822-8463.