Watkins began in 1868 as an apothecary medical company and by the late 1800's Jr Watkins wanted people to experience the quality of the food and medicinal value of the ingredients used in Watkins Salves, Liniments, and other Watkins Remedies. So He launched Watkins Food Line of Watkins Products. From it has sprung many wonderful recipes! Even Cook Books! Like Watkins Vanilla Classic Recipes…
Another great place to get Watkins Recipes is on our Watkins Online Store at JustGoNatural.com
One such recipe is Watkins Fabulous French Onion Soup
Ingredients:
5 medium onions …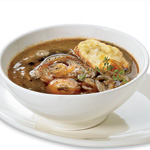 3 tbsp/45 mL butter or margarine
1-1/2 quarts/liters water
1/4 cup/60 mL Watkins Beef Soup & Gravy
1 tbsp/15 mL Watkins Onion Soup & Gravy
1/4 tsp/1.2 mL Watkins Black Pepper 170 g
Pinch of cayenne pepper
Pinch oo Thyme
6 slices French bread
Butter or margarine
1 cup/250 mL (4 oz/113 g) shredded cheese (Swiss or Cheddar)
Cooking Directions:
Peel and thinly slice onions. Heat the 3 tbsp/45 ml butter in a heavy 3-quart/liter saucepan over low heat; add onions and cook slowly, stirring until golden in color, about 10 minutes. Gradually blend in water, soup bases, and seasonings. Bring to a boil; cover and simmer about 15 minutes. Meanwhile, toast one side of bread under broiler until golden brown. Butter untoasted side and sprinkle slices with 1/4 cup/60 ml cheese; broil until cheese is melted. To serve, place hot soup into oven-proof bowls or mugs; float French bread slices on top. Sprinkle with remaining cheese; broil until cheese is bubbly and brown. (Makes 6 servings).
Watkins even provides Nutritional Information:
(Per Serving)
Calories 300
Protein 12 g
Carbohydrates 34 g
Sodium 1130 mg
Fat 14 g
Saturated Fat 7 g
Cholesterol 33 mg
Dietary Fiber 3 g
For this and other great Watkins Recipes and to order your Watkins Products online visit: JustGoNatural.com or phone Toll Free: 877-822-8463.