Watkins Consultant Jennifer Uffleman pitches in to help a Family in Her area who are experience multiple challenges.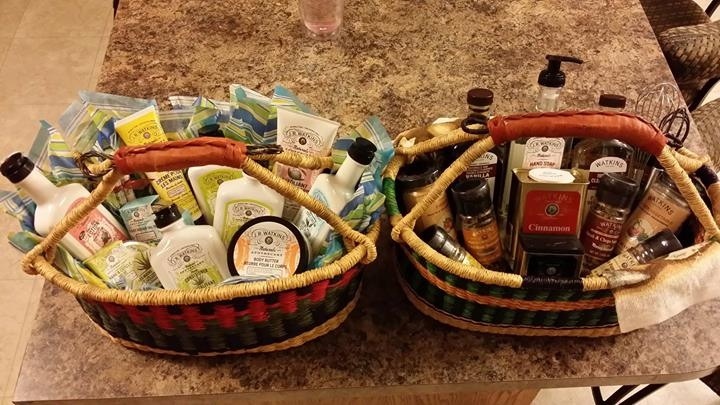 These two Watkins baskets are headed to a benefit for The Bender Family.
The Bender Family could use plenty of prayers right now.
The Mom beat advanced thyroid cancer a few years ago but the radiation therapy cost her some detail oriented brain functions. When you work with computers this is not compatible.
They then found out the Dad had prostate cancer which he beat.
Also, around that time their son was diagnosed with some rare food allergies and the Dad began having back trouble.
After a failed back surgery both parents have lost their jobs, but in their inspirational way are making ends meet doing any odd job they find.
The Dad has now been diagnosed with melanoma – showing as brain lesions.
All this making it impossible for anyone to hold even a part time job – but still doing what they can AND being active in their church and community!
Jenn says, "The last several benefit baskets I have put together, for other events, have sold for over $500.00 Let's hope that these two do just as well for this amazing family!"
If You are reading this and thinking I wish I could help,
contact us and We'll help make it happen! 😉
Have questions? Contact me…



Independent Watkins Manager
Brian Hurlburt (ID#342198)
Toll Free 877-822-8463