Watkins Baking Powder Biscuits are just what's needed to warm up the Winter! I remember being a boy, and the Biscuits my Mom used to make… Topped with melted butter and Molasses!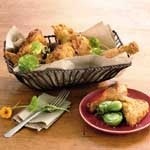 Watkins Baking Powder Biscuits
Ingredients:
2 cups/500 mL sifted all-purpose flour
1 tbsp/15 mL Baking Powder
1/2 tsp/2.5 mL salt
5 tbsp/75 mL vegetable shortening
3/4 cup/180 mL milk

Cooking Directions
Sift together flour, baking powder, and salt. Add shortening and cut into dry ingredients with two knives or pastry blender until mixture resembles coarse meal. Make a well in center and gradually add milk, stirring until a soft dough forms. Turn out onto lightly floured board and knead lightly for 30 seconds. Roll out 1/2 to 3/4-inch/1 to 2-cm thick. Cut with a floured biscuit cutter. Arrange on greased baking sheet. Bake at 450ºF/235ºC for 12 to 15 minutes or until golden brown.
Makes 12 biscuits, one per serving.
So, now, all You need are the Ingredients!
Get Your Watkins Products when you
Visit our Canadian Watkins Catalog or Visit our Watkins Catalog for the USA
Do you enjoy Food, Cooking, Baking, sharing Recipes?
We're looking for Watkins Consultants to help care for Customers in Your area!
Are You, or do you know of someone, looking to earn some extra income?
If so, contact Independent Watkins Manager Brian Hurlburt (ID#342198)
Toll Free at 877-822-8463.