Wake Up To Watkins Baked Cinnamon French Toast is a recipe I've adapted from a great recipe I found over at Eggs.ca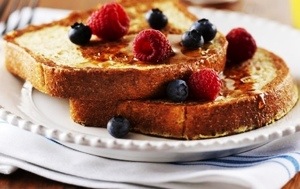 See Original Recipe at Eggs.ca
Ingredients:
6 slices white, whole wheat or raisin bread
1/2 tsp / 2.5 mL Watkins Cinnamon
3 Eggs
1/2 cup / 125 mL Milk
1/2 cup / 125 mL Watkins Maple Syrup
(See Watkins Maple Syrup Recipe Below)
2 tbsp / 25 mL Butter or Margarine
1/2 tsp / 2.5 mL Watkins Original Double Strength Vanilla
A sprinkle of Watkins Cinna Cream Sprinkles
Directions:
Preheat your oven to 350°F (180°C)
Spray a 13 x 9-inch (33 x 23) baking dish with Watkins Cooking Spray.
Arrange bread slices to fit in single layer in a dish
Sprinkle Watkins Cinnamon over bread
Whisk eggs, milk, Maple Syrup, Watkins ODS vanilla, and butter in medium bowl till blended.
Pour evenly over bread.
Bake immediately or cover and refrigerate several hours or overnight.
Bake, uncovered, in preheated 350°F (180°C) oven
until firm to the touch, about 30 minutes.
Serve with fruit, Watkins Maple Syrup, sprinkle over with
Watkins Cinna Cream Sprinkles
Find More Great Recipes at Eggs.ca
Find the Ingredients for the above Recipe at …
Our Canadian Watkins Online Store
Or,
Shop our US Catalog at Watkins Online
Do you enjoy cooking, baking, natural, organic, and gourmet products? Why not join our Team? We're looking for enthusiastic, positive minded, people to help service our Customers, and perhaps even conduct Tasting Events! Call for details
877-822-8463 (Toll Free) and ask for Independent Watkins Manager Brian Hurlburt (ID#342198)
[pinterest]