The 29th Annual Atlantic Balloon Fiesta September 5,6,7 2014 promises to be fun for the whole family!
The Annual Atlantic Balloon Fiesta takes place in Sussex, New Brunswick, and provides FREE Admission to the festival grounds!!! So bring the whole family. Breakfast is being served this morning, a full breakfast with Eggs, Sausage, Home Made Home Fries, Toat, Tea, Coffee, Juice, and more!
When these people do a thing they do it right!
Hot Air Balloons, Balloon Rides, Midway Rides, Concessions, and an Indoor Craft Sale with everything from Fudge & Beef Jerky to Davis' Faberge Eggs to Watkins Products (You remember, the stuff Grand Ma used!)
So come One, come All, and have a Ball! (Or should I say a Balloon!)
Hope to see You here!
If You're looking for Watkins Products shop early to avoid disappointment!
Our being here was rather last minute, so we don't have the quantity of Watkins Products we normally do! But when they call You to come you find a way to make it happen! We have a good assortment, but will probably run out of some items! (Of course, we do take orders!)
So bring the family, enjoy the day, and stop by our Watkins Products Display in the Craft Fair Building, at the outdoor arena. (Indoors)
The festival features 30 Hot Air Balloons flying twice daily, at 6:30am and 5:30pm Daily. So we'll see You there!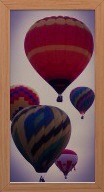 For more info please visit the The Annual Atlantic Balloon Fiesta Website

We got here late yesterday, only had about two hours here, but people flocked around our Table with the usual refrain,
"Oh! My! Watkins Products!"
As a result we are looking for New Team Members who are interested in Selling Watkins Products, Developing a Sales Team, or a combination of both! Even if You'd just like to look after a few Customers each month You can earn more! For example, do just 10 Sales of $25 in a month and We can show You how to earn 27-30%. In fact, it is even possible to earn up to 47%!
Interested in learning more, or getting started? Please come See us at our Watkins Products table, or visit RespectedHomeBusiness.com
Have Questions?
Contact Me…



Independent Watkins Manager
Brian Hurlburt (ID#342198)
Toll Free 877-822-8463