Great news for Watkins Products Customers, Watkins Onion and Garlic Pepper is back by popular demand! Sodium Free, Watkins Onion Garlic Pepper!
This is going to make many of our customers so happy! Versatile, no salt, onion garlic seasoning, perfect for sprinkling on all types of meat before grilling, frying or roasting. Add it to meatloaf, egg dishes, casseroles, sauces and other savory dishes.
It's also great for adding to your meal at the table, and just one smell says it all!
If you are looking for a salt free seasoning to jazz up your meals you'll love this one. Watkins Onion Garlic Pepper is a perfect blend of onion, garlic and Watkins famous black pepper.
Watkins Onion Garlic Pepper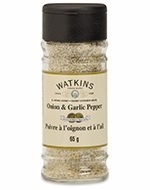 Ideal for sodium restricted diets.

You'll love this for every day cooking!
Order your Watkins Onion and Garlic Pepper online in our US Watkins Products Store or in our Canadian Watkins Products Store. JustGoNatural.com
Or by phoning Brian Hurlburt at 877-822-8463 (Toll Free)