Making Sugar Cookies with Watkins Cinnamon, Watkins Vanilla, and Watkins Hazelnut Extract Flavouring, on Valentines Day! What's any better than sweets for the sweet!? My Recipe is one I adjusted after finding the "The Best Rolled Sugar Cookies" recipe over at AllRecipes.com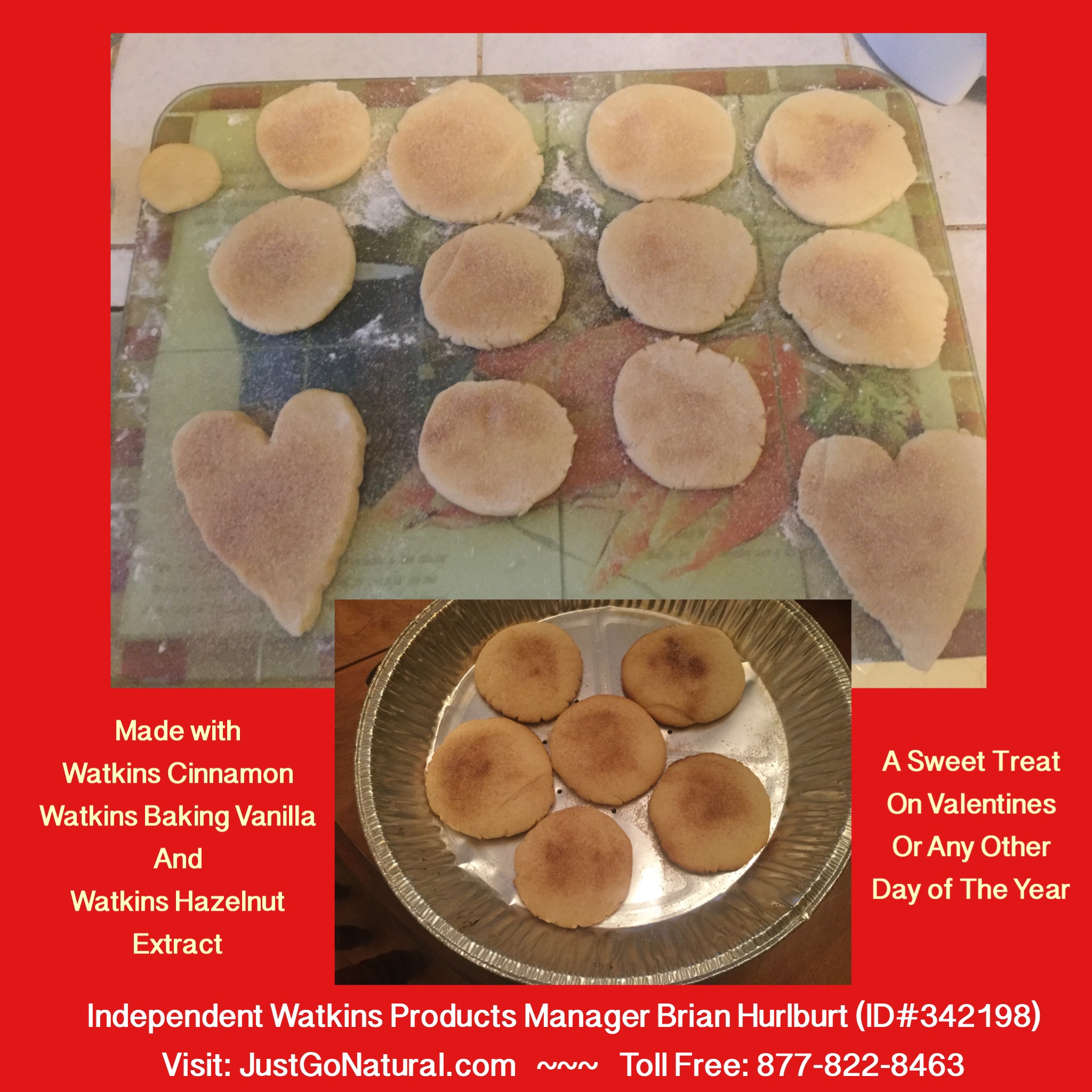 The main differences in my Recipe is the addition of Watkins Cinnamon and Watkins Hazelnut Extract. Plus, I prefer to get just a little browning on my cookies, whereas the video of the "The Best Rolled Sugar Cookies" recipe over at AllRecipes.com suggest no browning at all.
Here's my Recipe…
Ingredients
1 1/2 cups butter, softened
2 cups white sugar
4 eggs (room temperature)
1 teaspoon Watkins Baking Vanilla Extract
1/2 teaspoon Watkins Hazelnut Extract
5 cups all-purpose flour
2 teaspoons baking powder
1 teaspoon salt
1 teaspoon Watkins Cinnamon
Directions
In a large bowl, cream together butter and sugar until smooth.
In a Cup, Beat in eggs, Watkins Vanilla, Hazelnut Extract, then stir that mixture in the butter sugar mixture.
Stir in the flour, baking powder, salt, and Watkins Cinnamon. Cover, and chill dough for at least one hour (or overnight).
Preheat oven to 400 degrees F (200 degrees C). Roll out dough on floured surface 1/4 to 1/2 inch thick.
Cut into shapes with any cookie cutter. Place cookies 1 inch apart on ungreased cookie sheets.
Bake 6 to 8 minutes in preheated oven. Cool completely. Sprinkle with Watkins Cinnamon.
Who do You know who would enjoy this Recipe, or Watkins Products? Who do You know who would make a great Watkins Consultant? Share this Blog Post with them.
Have questions? Contact Me, Independent Watkins Products Manager Brian Hurlburt at Toll Free: 877-822-8463
Want to view our Watkins Products Catalog? Click Here To View Our Catalog Now!