It's that time of year!!! Kimmy's Annual Christmas Craft Show at the Kinsmen Hall in Lively, Ontario (Just outside of Sudbury).
Saturday Nov 15 from 9-5….
Kim holds this event each year and does this in memory of her Mom and her cookie proceeds go towards the cure and treatment of Pulmonary Lung disease.
This year Independent Watkins Manager Sue Lessard
has decided to attend this event will donate $1 from any basket to NOFCC to help out all the families in Sudbury that have little ones going through Cancer Treatments . As well as $1 from every surprise bag to help treat Pulmonary Lung Disease.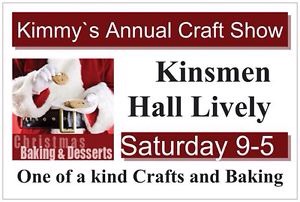 There will be a wide variety of one of a kind crafts, nails, jewelry, bracelets,
pampered chef, knitting, painting, etching, baking Watkins Products,
several Christmas items, and more!!!
Please come out to this great event, see all the Vendors, and
show your support for these great causes.
Event takes place Saturday Nov. 15 from 9-5.
Have Questions about Watkins Products?
Contact Independent Watkins Manager Sue Lessard
Or…
Contact Me…



Independent Watkins Manager
Brian Hurlburt (ID#342198)
Toll Free 877-822-8463