Yes, it's a special product you wont want to miss!
Kemp's Holiday Ice Cream Made With Genuine Watkins Vanilla
The Kemp's Brand has a tremendous heritage and was first created in 1914 out of a small creamery in Southeastern Minnesota owned by the Kemps family. Hence, the company slogan, "Quality since 1914." (Read about Kemp's Company History)
Now, Kemp's is letting everyone know about their favorite Vanilla and will be including Watkins Vanilla in their Kemp's Holiday Ice Cream! By mid to late October 2011 Kemp's Holiday Ice Cream made with Watkins Vanilla will be in stores throughout the Mid-West.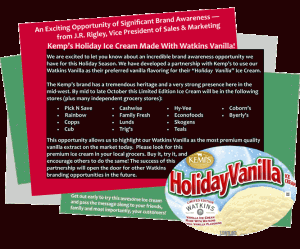 To learn more about Watkins, Watkins Vanilla, and other great Watkins Products and Watkins Recipes, visit JustGoNatural.com
Have questions? Want to save up to 40% on your Own Watkins Products?
Interested in learning more about how You, or Your Group, can earn up to 40% selling Watkins Products? Contact Brian Hurlburt, "Recipient of the Top Consultant" and "New Manager of The Year" Awards, phone Brian Hurlburt toll free at 1-877-822-8463.