Shrove Tuesday is observed by many Churches, including Anglican, Lutheran, United and the Roman Catholic Church. Adherents make a special point of self-examination, considering what wrongs they need to repent, and what amendments of life or areas of spiritual growth they need to ask for God's help with. (Click Here to Learn More).
In layman terms, Shrove Tuesday was the day before the period of Lent, beginning on the day after Shrove Tuesday, known as Ash Wednesday. Many adherents give up things like milk, eggs, oil, and butter, for Lent, and using up the remainder of these items on the Tuesday prior to the beginning of Lent. One of the ways that has become a tradition is to mix them into Pancakes. As a result, today, we often hear Shrove Tuesday referred to as Pancake Day, Fat Tuesday, or Mardi Gras.
While I grew up Protestant, the one Catholic Holiday we celebrated, at least in part, was Shrove Tuesday!
The reason we celebrated it wasn't because we wanted to keep our bases covered! It was because my Dad didn't like Pancakes, but my Mom and I did. So, it was the one time of the year when Mom thought she had an excuse to make Pancakes! Actually we did have them a few times through year, but Mom and I always looked forward to Shrove Tuesday!
So, over the years, I've gathered some great Pancake Recipes, but the one we now like the best is one we found in Harrowsmith's Cook Book Vol. Two and it is for Oatmeal Pancakes! In fact, it was a recipe submitted by someone right here in New Brunswick, Canada! More specifically Judy Wuest of Cross Creek, New Brunswick.
So, that said, here in this picture is the Supper we enjoyed tonight, along with some cheese sausages!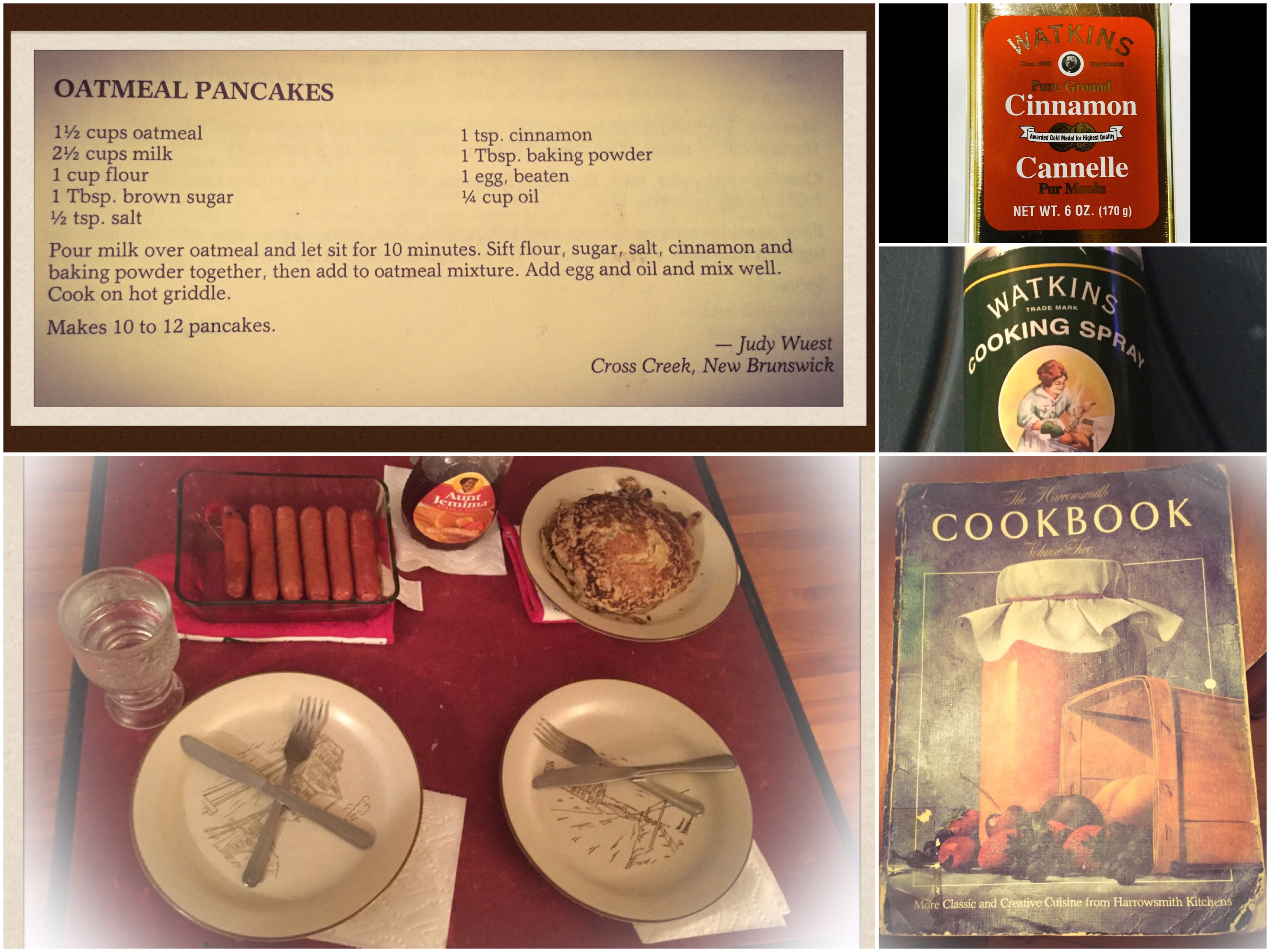 As You can see we use Watkins Products, not surprisingly, and the taste of Watkins Cinnamon comes shining through and really give an incredible taste to the Pancakes. We use Watkins Cooking Spray which has a nice buttery Flavour, but is very low in calories. We, also, often add one of our Favorite Watkins Extracts, like Watkins Maple Fla oring or Watkins Hazelnut Extract. Either way these Oatmeal Pancakes are very filling! Twice as filling as regular pancakes and we find the recipe makes plenty for two meals! With about three Oatmeal Pancakes each being our limit!
Hope You enjoy this recipe and if you're celebrating Lent or any of the related festivities we pray you'll have a blessed event. If you know of someone who would make a great Watkins Products Consultant I invite You, or them, to contact us.
If You'd like to View Our Catalog (Click Here)