How do You survive Cold Season!? You know, that time of year when .you wish everyone would stay home so,they don't give You their germs and so you don't end up,suffering with a cold of Your Own! Right?
Right! So, as a result their are a ton of people looking for Products that will help combat their Cold Symptoms! Right?
Right! That's why we Need Reps! Seriously!
Watkins Products have been trusted for generations, since 1868.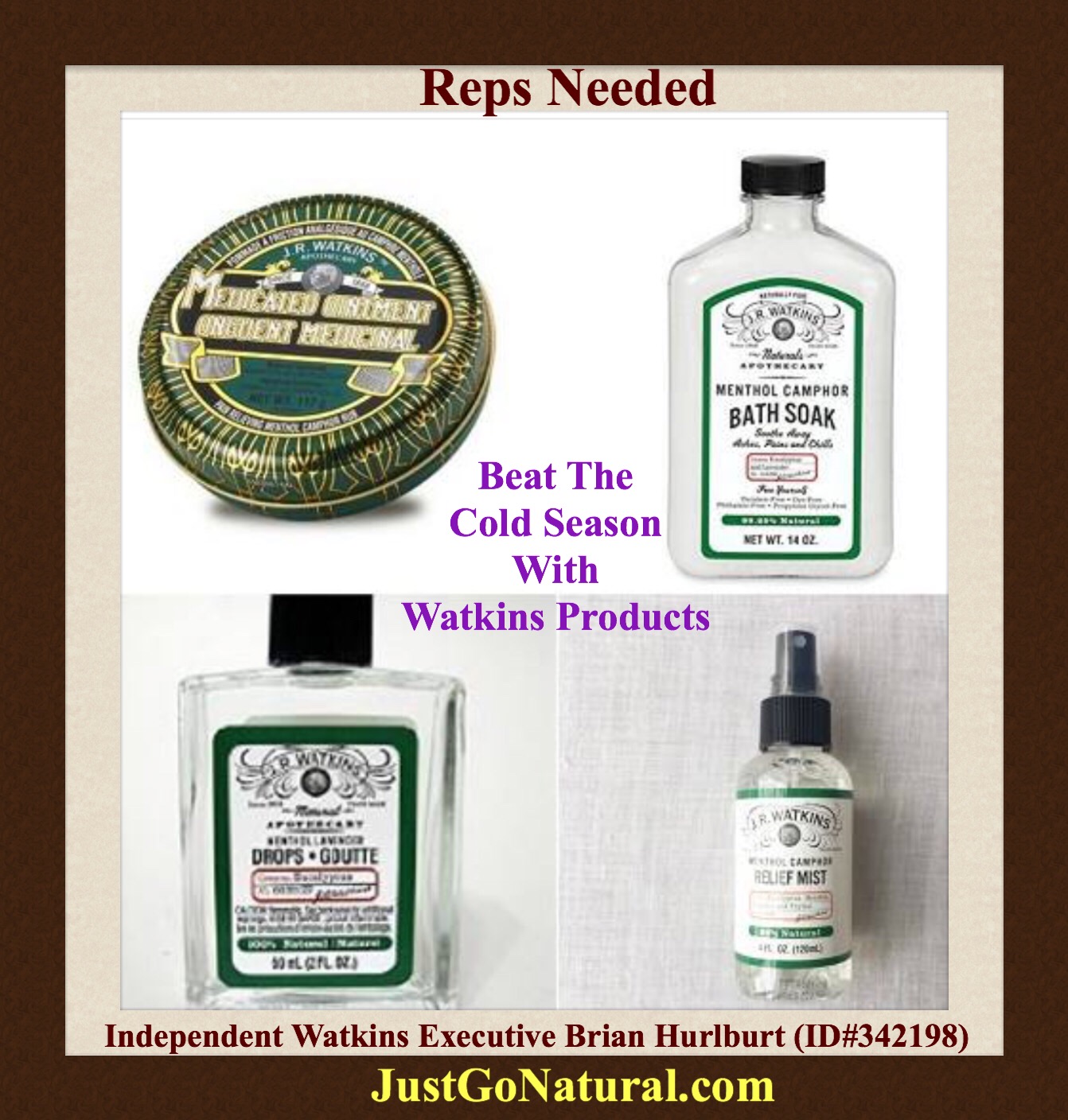 These four Watkins Products go along way to addressing the distressing situation and symptoms associated with the Cold Season. Whether you have cough, congestion, muscle aches and pains, or just sore and tired everything! You can rely on Watkins Medicated Ointment (known as Watkins Menthol Camphor Ointment in the United States).
Want to treat Sinus and Head Congestion? Use Watkins Menthol Camphor Drops! Just put a Drop, that's right, just one Drop on the palm of your hand! Then rub your palms together 5or 6 times and then cup,them over your nose and take 4 Slow Deep Breaths and You will be surprised at how well Watkins Menthol Camphor Drops work! Then put a drop or two on your pillow at night, and on a Handkerchief that you take with You Durga the day! You'll be so glad You did!
Then, at the end of Your long work day, or after Shovelling, treat yourself to a soothing relaxing bath with Watkins Menthol Camphor Bath Soak! It's Incredible! Or, if You,prefer to shower, spray Watkins Menthol Camphor Relief Mist in Your shower and step into an incredible Shower that will help sooth, relax, and clear your Cold Symptoms!
Now, remember those friends, coworkers, and family members, who, always have a cold and pollute everyone around them!? Or would You just like to help others get rid of their Cold Symptoms? If so, then we can help you do it and help you earn some extra income in the process! That's right! Join Our Team of dedicated Watkins Products Consultants and earn an income helping others! Cause that's what it's really all about! Helping others, while having fun, and helping ourselves! Sound Good!?
Contact me Today! Call Toll Free; 877-822-8463
Or For more information, or to get started now, Visit: http://respectedhomebusiness.com/342198