In December 2012 we had a "No" contest for our Watkins Products Associates!
Knowing that the thing most Sales Associates fear the most is the word "No"!
So, we decided to turn a negative into a positive and had our Watkins Products Team Members try to get 40 No's!
Each of our Watkins Products Associates were asked to ask the people they met a three part question…
A) Would You, or someone you know, be looking for a way to earn extra income?
B) Would You, or someone you know, be interested in getting some Free Watkins Products by having us come and do a Tasting (Watkins Living Naturally) Event for You?
C) Would You, or someone you know, be interested in looking at a Watkins Catalog?
When a person answered "No" to all three, A,B, & C, it counted as a "No"!
So, when one of our 80 plus Team Members got 40 "No's" they got their name entered in a draw for a prize worth nearly $100, a …



18K White Gold Plated Swarovski Elements Crystal Sparkling Heart Necklace
Yet, not one of them got their 40 "No's"!!!
Now, just in case you might be thinking, "Probably because no one did anything!" …
Sorry, but that would be wrong thinking!
We have one of the fastest growing, most productive, teams in Watkins!
We finished our year, 2012, with Team Sales in excess of $151,500.00, an increase of 129% and ended the year 2012 with a Team of 79 Watkins Sales Associates, a net increase of 58%.
In fact, we had one of our Watkins Managers turn in December Sales of over $2500.00 in Personal Sales Volume! Incredible! Well done Kathy!
So, then, with all things considered, It's Hard to Get a No with Watkins!
Knowing this also means, it's easy to get a Yes! To easy it would seem!
So, if you, or someone you know, is looking for a fun way to earn an income, with flexible hours, with a focus on health, wealth, and family, please contact…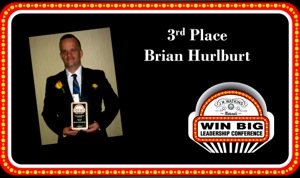 Brian Hurlburt (ID#342198)
Independent Watkins Manager
Toll Free: 877-822-8463
Shop Online at JustGoNatural.com