Is Your Pepper Ground or Granulated? (Does it really matter!?)
Yes, it most definitely does matter, the Essential Oils are better preserved when Pepper is Granulated!
Then why has 170g and 340g Black Pepper tin just changed to say Ground!?
Here's how Watkins responds…
Watkins Black Pepper is granulated. Our granulation process has not changed; however you will notice that our tins of black pepper have the name "Ground Black Pepper." The Black Pepper products are sold in the retail marketplace where the standard way of describing this product is "ground." The term granulation is a word that Watkins has stated previously on our 6 oz & 12 oz black pepper tins to distinguish the unique grinding process of our black pepper.

Please note that the product inside all of the tins of black pepper is granulated; however we have chosen to use the term Ground Black Pepper."
So, no matter what it says, on the outside, rest assured that ALL Watkins Black Pepper is GRANULATED.
(Which, is actually better than I originally thought, because I thought the 2 & 4 Ounce Tines were Ground)
Now, combine that with the fact that Watkins only uses the very best and it's no wonder Watkins has been famous for pepper for over a hundred years, and has even won Gold Medals to prove it.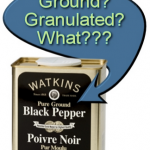 As Watkins often does, in going the extra mile, Watkins even has an Exclusive Granulating Process:
Watkins exclusive process granulates each berry into distinct particles rather than crushing or grinding them into dust. Our process doesn't create as much friction, which can evaporate the essential oils by generating heat. The result is better flavor retention.
So, there You have it! When you want the Best… You want Watkins!
To find a Consultant near You please Use our Consultant Locator,
No Consultant near You!? Then We need one…
Will it be You or someone You know?
Have Questions?
Contact Me…

Independent Watkins Manager
Brian Hurlburt (ID#342198)
Toll Free 877-822-8463