We've been hearing a lot about Gold Medal Winners this month at the 2014 Winter Olympics. First we want to congratulate all the Olympic Medalists and applaud their efforts and their Team Woork! Well Done!

Secondly we want to draw Your attention to another
Team of Gold Medal Winners!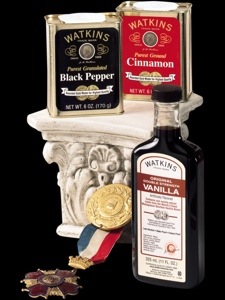 Gold Medal Winning Watkins Pepper, Watkins Cinnamon, and Watkins Original Double Strength Vanilla
(Looking for these and other Great Watkins Products – Use our Consultant Locator or Shop Online)
What makes a Gold Medal Winner?
Commitment, Patience, Persistence, and Determination are just a few of the ingredients that go into every Gold Medal. T
hese things combined with years of training, development, and ongoing Teamwork all lead to success!!!
So, why then, when it comes to MLM, Network Marketing, Home Business, Small Business, or any Business should it be any different!!!???
To achieve success takes time, commitment, persistence, training, support, and Teamwork! Not hype, empty promises, and hardball recruitment techniques!
If those things worked, that way, through hype, empty promises, and hardball recruitment techniques,
You'd see Olympic Recruiters on every corner, in every coffee shop, and in every Mall. You don't see this, as it doesn't work!
Rather, you see promotion of Sport, enjoyment of Sport, and people having fun while playing Sports! Attraction, Participaction, and Action,
are all terms we hear in regards to Sports and a few of those who enter the World of Sports proceed, to earn Olympic Gold, and other Medals!
The same things that work in Sports will work in Business!
Attraction, rather than Hardball Recruitment, needs to be our approach!
Letting others see us having fun, having time for our families, having time and money to enjoy life! These things will Attract others to You, Your Business, and help You succeed. Drawing in more Customers, more Consultants, and more success! Yet, only when we back it up with proper training, support, encouragement, and the person seeking Success is Committed to being patient, persistent, and is willing to put in the time needed to become successful!!!
That's right! If You want to succeed, you need to invest what it takes to become successful! There are no short cuts! There are no real secrets, and
there is no legal, ethical, fast track to money, fame, and success!!!
If others are promising you these things in regards to their Biz Opportunity, don't stand there, … Run!!!
However, if You'd like to invest the time, and other things it takes to build and develop a real long term successful business and income, then,
We invite you to join our Team!!!
To clarify, while you can Get your Watkins Membership and Join Our Team for just $39.95, and
Get a Discount on your own products, and earn at least 25% on your own sales, if you choose to sell (You don't have to!!!)
this will get you in the door, but does not promise success!!!
However, if You want to succeed, and build a successful Business, You need to be willing to take the time, and invest what it takes, and
be willing to learn, and train, and become successful. The good news is, if you are willing to do these things, then we can help You!
We've been doing this for over four years, during which time we've had about 337 People join our Team! Of whom, 186 are with us today, and about 1 in 20 of them are Managers!!! This in an Industry where 95% quit after their first 90 Days!!!! (Probably as a result of Hype & Empty Promises)
So, if You want to succeed, with a Product people love, on a Team with a proven track record, to accomplish Your Own Goals, and become one of the truly successful, elite, worthy of Earning Gild Medals! Then contact us! We'd love to put together a Gold Medal Plan of Success to help You succeed!!!
If this is You, contact me today!


Independent Watkins Manager
Brian Hurlburt (ID#342198)
Toll Free 877-822-8463