Watkins Hand Creams provide you with ultimate moisturizing experience
and are Certified by the Natural Products Association!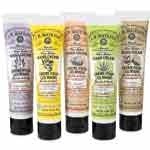 Natural shea and cocoa butters are whipped together with
more than 10 natural oils and extracts to protect, soothe and condition your skin.
The convenient tube is perfect for anyone on the go.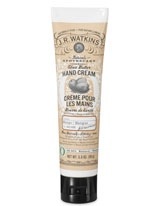 Natural Mango Body Cream Article No. 40516
One smell You'll think you've been transported to the Tropics,
Feels like silk, soothing, never greasy, and
Stays, even after washing!
We find that about 1 in 3 who try it buy it, and
We're sure you'll love it too!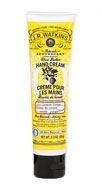 Natural Lemon Cream Hand Cream Article No. 40509
Think Lemon Pie! Light, Refreshing, and Guaranteed to Please!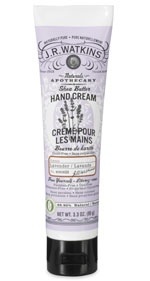 Natural Lavender Body Cream Article No. 40508
Think cool summer evenings, relaxing smells, and a soothing touch,
And you begin to experience this Lavender scent-sation!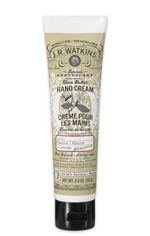 Natural Vanilla Body Cream Article No. 40510
Watkins has been known for it's Vanilla for nearly a century,
Now you can basque in the luxurious and soothing smell of vanilla!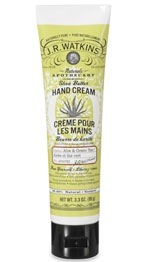 Natural Aloe & Green Tea Body Cream Article No. 40507
Refreshing! Light smelling, Refreshing, invigorating, Refreshing!
All Watkins Body & Hand Cream Feature:
All body creams are 97.5% natural and above
Rich non-greasy formula
Contains panthenol (vitamin B5)
Natural oils include apricot, coconut,
avocado, babassu, jojoba and safflower oil
For everyday use, and
Suitable as an all-over moisturizer
Ideal for hands, rough areas, including heels, knees, and elbows,
And anywhere you want a soothing touch!
Brand Commitments:
95% Natural and above•
Sodium Lauryl Sulfate Free•
Sodium Laureth Sulfate Free•
Paraben Free•
Phthalate Free•
Mineral Oil, Petrolatum free•
Dye Free
5 Scents to soothe, relax, invigorate, and relax…
Try all 5… You'll be glad you did!
(Also Make Great Gifts…They'll love You too!)
40507 Aloe & Green Tea
40508 Lavender
40509 Lemon Cream
40516 Mango
40510 Vanilla
Regularly Priced at $10.99 CAD
SPECIAL $9.49 each
Shop Online at JustGoNatural.com
Have questions?
Contact Watkins Manager Brian Hurlburt (ID#342198)
at 877-822-8463 Toll Free!