Did you know Watkins Grapeseed Oil is lower in saturated fat than most other oils!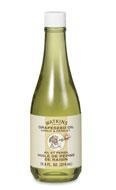 At 8% Watkins Grapeseed Oil has only about half the amount of fat as olive oil and is higher in unsaturated fat than nearly all the other oils.
Watkins Grapeseed Oil is one of the Highest in polyunsaturated fat (72%), proven to lower bad cholesterol but also increase good cholesterol. High smoke point; makes it perfect for grilling or sautéing. 1 TBSP = 120 calories & 14 g fat. Grapeseed oil has a wonderful light flavor; Its light neutral flavor won't clash with certain foods as it takes the flavor from what it is cooked with.
This month purchase Original Grapeseed Oil (#31535) or Garlic & Parsley Grapeseed Oil (#31527) for $15.99 and get one Garlic Liquid Spice (a concentrated, all natural liquid spice of garlic) $5.99 (#31892).
To order please contact
Independent Watkins Manager Brian Hurlburt (
ID#342198) at Toll Free 877-822-8463