Congratulations to Jennifer Jones and Canadian Gold Medal Curlers we are proud of your Incredible Accomplishments!
We know that it takes time, commitment, determination, and as Watkins Top Salesman Bill Porter's Mother taught Him, patience and persistence.
All of these things, and more go into winning of any top position, Olympic Medals as well.
Obviously Jennifer Jones and Her Team have spent many hours, faced many frustrations, and overcome many obstacles on their way to Olympic Gold.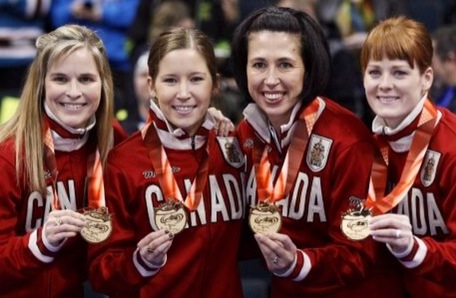 The Canadian team of Jones, Kaitlyn Lawes, Jill Officer, Dawn McEwen and alternate Kirsten Wall has done incredibly well and their determination and Team Work has taken them all the way to the top, and Olympic Gold.
For many of those Ladies, it's been a journey of many years, and while the Olympics may be held every four years, it has been 16 years since Canada took Curling Gold under Sandra Schmuler. For these Ladies, it's a once in a Lifetime Accomplishment coming as a result of many years of training and team work.
As the Leader of one of Watkins fastest growing Teams, with our eyes on Watkins Gold, Watkins Gold Executive Position, I'd be amiss if I failed to mention our Team of Watkins Consultants.
It takes time, patience, persistence, and all the same qualifies, and Team effort, as winning a Gold Medal, to reach Watkins Gold Executive Position and our Team is poised to become Watkins Products Executives in the next year and Gold Executive to follow.
I'm sure Jennifer Jones will tell You, she could never have done it without Her Team! Likewise, I contribute our success to the Incredible People who make up our Team!
I'm also sure Jennifer Jones will tell You their is nothing like knowing You've helped Your Team Members to reach their accomplishments!!! I too know how great it is to help our Team Members reach their goals!!!
Over all with Watkins, about 1 in 42 Consultants are Watkins Managers. While on our Team of 186 Watkins Products Consultants we currently have 9 Managers! Or, about 1 in 21 of our Team Members becoming Managers!!!
Proving our Team Members and Teamwork are making it possible, and those joining our Watkins Products Consultants Team are twice as likely to reach Manager Position and move forward with their success, earnings, and accomplishments!
So, that leads me to ask…
"When was the last time You saw a Watkins Products Consultant near You?"
If it's been awhile, we need someone in Your area!
We need someone there, will it be You, or someone You know!?
We have the Training, Support, and Teamwork to make it work,
And We'd love to speak with You about whether this would be the right fit for You too!? Please contact me for more information, and to discuss the possibility of You becoming our next Team Member!
Contact me …



Independent Watkins Manager
Brian Hurlburt (ID#342198)
Toll Free 877-822-8463