Congratulations Sue Lessard on A Team Of 100 Watkins Products Consultants! You, Your Team, and Your New Manager Kim Sergeant, are ALL doing a Tremendous job of helping expand our Watkins Products Business, helping both New and Existing Watkins Customers to find Watkins Products in their Communities and in Their Homes.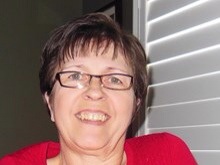 Independent Watkins Manager Sue Lessard
Watkins has provided quality Products at reasonable prices to generation, after generation, of Families looking for affordable quality Products. Today over 3,500,000 Million People are using Watkins Products, and yet Watkins Products are to be found in less than 1% of Households in Canada and the United States!
Why, after decades, one hundred forty six years, every since 1868, are there so few Homes using Watkins Products!? I believe it is because over all with Watkins there are only about 20,000 Watkins Products Consultants! Many of whom simply got their $39.95 Watkins Membership to get a Discount of at least 25% on their own Watkins Products! Thus saving their on their Family's Grocery Bill.
Thus, there are, we'll guesstimate, fewer than 4,000 Watkins Products Reps who actually sell Watkins Products! Many of them simply share their Catalog with a few of their Family and Friends. This further reduces the number of Watkins Products Consultants who do Watkins as a Business to a very small number as compared to Companies like Amway, Melaleuca, and Avon, who through mass recruiting efforts have grown their Consultant base to Hundreds of Thousands as is evident! Ask someone when they were last approached by someone with Amway, Melaleuca, or Avon, and they can most likely tell you of someone who sells their Product, or tried to recruit them into their Organization!
While, when you ask someone when they last saw a Watkins Rep and they will likely regale you with stories of their childhood, and tell you about their Favourite Products, and Watkins Memories!
Therein lays the challenge! People love Watkins Products, and simply, often don't have a place to get it! So, often we hear our New Watkins Products Consultants say, "I never knew it would be so easy! People love Watkins Products and just need a place to get it!"
Which is quite different that what I've personally experienced with other Companies! I somewhat jokingly say, "Now my Customers run toward me!"
This has certainly been the experience of Sue Lessard, and Her ever growing Team of Watkins Consultants that now numbers over 100 and spans several Canadian Provinces! Sue and her Team are doing their best to insure there's at least one Watkins Product in every home!
We applaud, Sue Lessard, her New Manager Kim Sergeant, and their whole Team for their diligent efforts! Sue joined Watkins in the Fall of 2012 and began to build her Team in the late Spring of 2013. Sue became an Independent Watkins Manager early in the summer of 2013 and helped Kim Sergeant, who joined Sue in Sept 2013 to become an Independent Manager during the Spring of 2014. The end of May 2013, Sue had a Team of 4… Now, Sue has a Team of over 100 Watkins Products Consultants!!! Which just goes to show… "When You put Your mind to it, You can become successful with Watkins!"
Sue, we applaud Your Success!!!
============================================================


Do we have a Watkins Products Consultant near You? Click Here to find out now!

If not, please consider what becoming a Watkins Consultant may mean to You!?

If You would like to
Receive a Watkins Sales Catalog,
Discover how You can Save 25% on all Your Watkins Products,
or Join our Team and earn up t0 39%
Please Watch our Intro Video
Jot down Your questions, and contact me…





Independent Watkins Manager
Brian Hurlburt (ID#342198)
Toll Free 877-822-8463