The Shediac International Flea Market will run July 21-24, 2016 at the Shediac Lobster Festival Grounds and Arena in Shediac, New Brunswick. This will be the 18th Annual Shediac International Flea Market and will host a huge number of Vendors of all sorts. Including Automotive Memrobilia, Antiques & Collectibles, Crafts, Food Court, Flea Market Items, and Home & Small Businesses. We, of course will be there with Watkins Products, set up outside on Lot # 304. Since this is a Huge 20 x 30 Lot we will also have a friend, Don O'Grady, on our Lot who is an extraordinary Chain Saw Artist! Don O'Grady's Carvngs are one of a kind creations that while done with a Chain Saw, look incredible and reflect the talents and abilities of this skillful Artisan.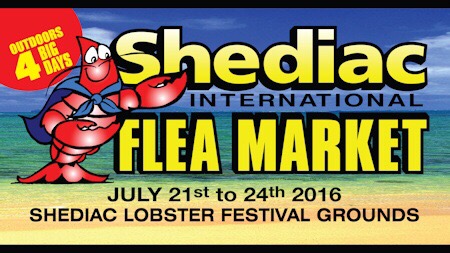 For more information on the Shediac International Flea Market
(Please Click Here to visit the Market Website)
To learn more about Watkins Products or how You can earn an income with Watkins Products Please contact me Independent Watkins Products Manager Brian Hurlburt (ID#342198) at 877-822-8463 (Toll Free).
To see our other upcoming Events come Visit Our Events Calendar