Bill Porter, Shelly Brady, and People Like Them, are My Heroes! Many people look to Sports Figures, Celebrities, or Business Leaders who drive big cars, wear fur coats, and sport flashy diamond rings! However, for me, I believe true Heroes are those people who overcome great odds, and those who help them! People like Miki Boleen who survived Polio and Cancer, to be Awarded the 2007 Myrtle Evertt Woman of the Year Award! People like Mary Crader who I had the pleasure of going Ziplining with, at Her invitation, despite her being well into her 80's at the time! Both of these incredible Ladies continue to shine as Independent Watkins Products Managers.
People like Bill Porter who despite all odds, overcome, and people like Shelly Brady who helped Him get there. People like Bill's Mom who encouraged Her Son to reach for more! To reach for more despite His incredible health challenges. In fact, I feel I have to be careful here, I don't want anyone to feel sorry for Bill, for He would not have wanted that. He never looked for sympathy, or Charity, he always looked for ways to win! To be self reliant, and successful, despite His circumstances.
You see, it was Bill Porter, and His story, and example that inspired me to become a Watkins Products Consultant, and applying the Ten Things I Learned From Bill Porter, that helped me build one of the top performing Teams in Watkins today!
However, I'm getting ahead of myself, You see… way back in 2002 I watched an incredibly inspiring movie called "Door to Door". Door to Door, a 2002 television film about Bill Porter, and his story as portrayed by the actor, William H. Macy, as directed by Steven Schachter. It was nominated for twelve, and won six, Emmy Awards, including Outstanding Made for Television Movie, and also won a Peabody Award. It also won my heart and made Bill Porter my Hero!
After watching "Door to Door", I immediately joined Watkins! I went online and found the story, and someone to be my Sponsor, but sadly my Sponsor give up before I did, and I got little Training. I did stay with Watkins for a year, and attended a little Market on Sundays at our local Mall in Yarmouth, Nova Scotia. However, when that Market closed, so did I and I left Watkins! Unlike Bill Porter, I hadn't learned Patients and Persistence! Patients and Persistence were two of the big lessons Bill's Mom taught Him and I've since learned.
So, now You're wondering, "If I left Watkins, why am I doing this Blog Post, and running a Blog about Watkins!". Right?
Well, while I left back then, I always had it in my mind to come back! I loved Watkins Products and knew the incredible love people have for Watkins Products, and I knew I wanted to come back. I did in Sept 2009. (To Read My Story Click Here).
Anyway, I don't want this to be about me, I want it to be about My Heroes, Bill Porter, Shelly Brady, and People Like Them… Bill Porter was born with cerebral palsy, and that's never easy, especially for those born back during the Great Depression! Bill was born September 9, 1932 in San Francisco, California, and later moved to Portland, Oregon, with his mother at a young age. Due in large part to the era in which He was born, Bill struggled to gain employment due to his cerebral palsy. Yet, He refused to go on disability!
Bill eventually convinced Watkins to give him a door-to-door salesman job, but only after demanding they let Him try their hardest route! A seven-mile route in the Portland area. Despite the times, and his affliction, Bill Porter became Watkins' top seller, and worked for the company for over forty years!
It wasn't till 1995 when Bill Porter came to the public's attention when the The Oregonian newspaper ran a feature story about Him. His story of optimistic determination gained him media attention across the United States. He was featured in Reader's Digest and on the Televisions Show 20/20. The 20/20 broadcast received over 2000 phone calls and letters, which was the most ever for a 20/20 story! Then, sadly, in December 2013 we heard of Bill's passing.
Then, just a month or so ago, while doing Genealogy (my hobby of 25+ years) I discovered a news article on OregonLive.com says no that Bill, and His Mother, do not have a Headstone! In the article it told of Shelly Brady, who had been Bill's helper, and Friend, for a number of years, and how she had held Yard Sales to try to get the money for a Headstone, and then setup a GoFundMe Fundraising Campaign to try to raise the money. You can view or donate now by Clicking Here! I made a small donation, and shortly after received a personal email thank you from Shelly Brady.
I responded to Shelly's thank you email, telling Shelly how I wish I had met Bill Porter, and how he was my reason for joining Watkins, that he is my inspiration, and my Hero! I also said if She had any yard sale items left I'd love to have a keepsake, even if was just a pair of shoelaces! Well, Shelly went above and beyond! She sent me Bill's Glasses, the Positive Living Magazine (published Nov/Dec 1996 by guideposts.org) with the story of Bill Porter with a picture of Bill wearing the glasses, along with a two autographed photos, one of Bill and one of Bill and Shelly, and a Postcard with a personal note from Shelly Brady! Certainly the sincere effort and positive character of Shelly Brady helped Bill Porter and, as you can see, continues to help people today! These are the characteristics of true Heroes, the ability to go above and beyond, and inspire others from the heart.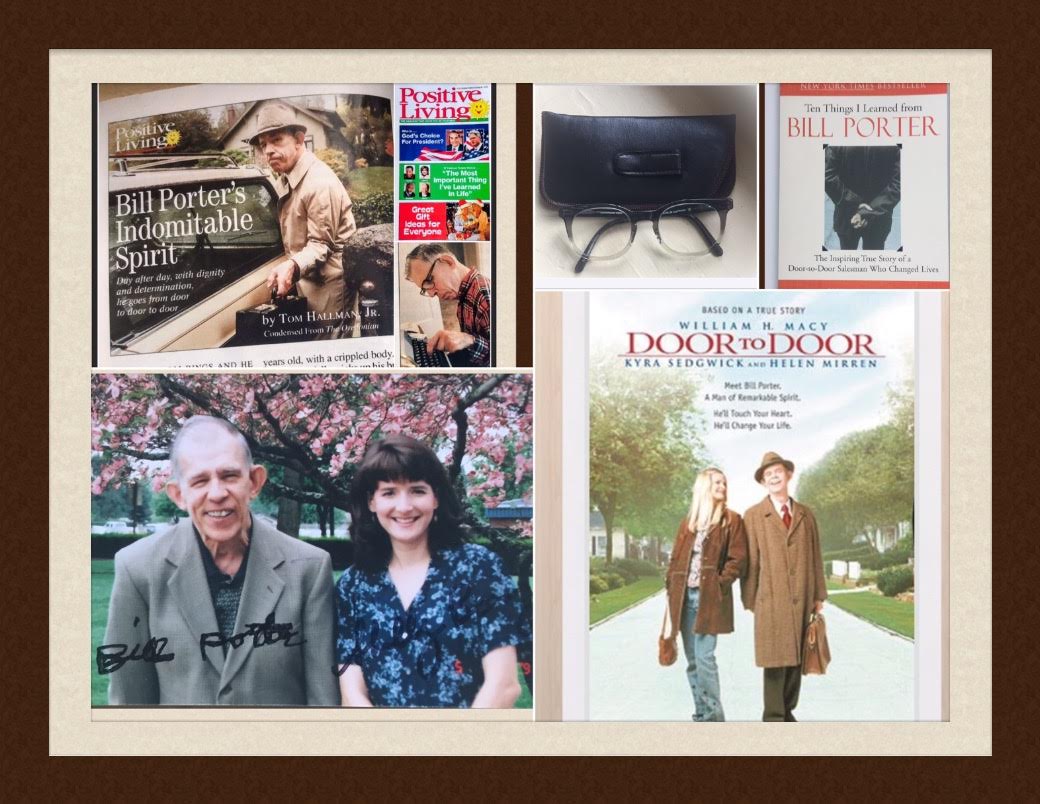 As you can see, there is one thing missing from the picture! I said that there were two Autographed Photos, one of Bill Porter and one of Bill Porter and Shelly Brady. The one of Bill Porter is missing because I mailed it to Miki Boleen. You see, not only is Miki a great friend, Miki is also the only person to ever receive the Bill Porter Award from Watkins! The Award is presented for merit, for character of person, and for all the things it takes to be, in my opinion, true Heroes.
As a result of all this, I've spent the past week trying to write this Blog Post, in a way that captures the spirit of Bill Porter and shows my sincere appreciation of Bill Porter, Shelly Brady, and People Like Them, … My Heroes!