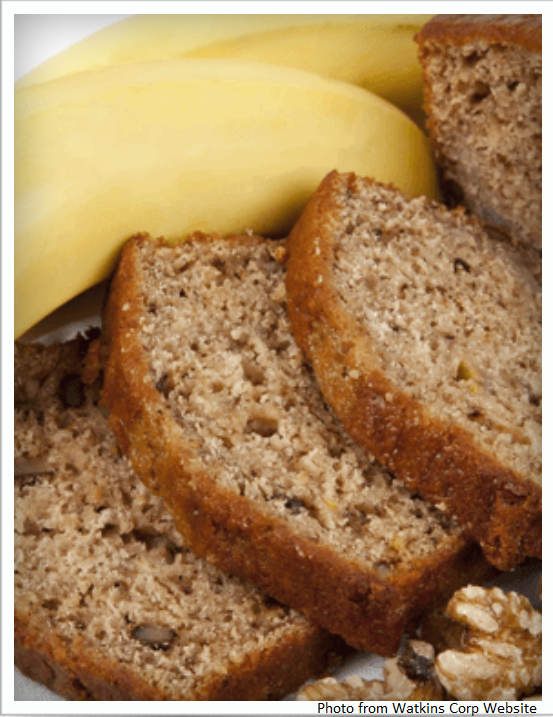 Banana Spice Bread Recipe is sure to be a Favorite!
Ingredients
1/3 cup/80 mL vegetable shortening
1/2 cup/125 mL sugar
2 eggs
1 tsp/5 mL Watkins Original Gourmet Baking Vanilla
3/4 tsp/4 mL Watkins Banana Extract
1-3/4 cups/440 mL all-purpose flour
1 tsp/5 mL baking powder
1-1/2 tsp/7.5 mL Watkins Pure Ground Cinnamon
1/2 tsp/2.5 mL baking soda
1/2 tsp/2.5 mL Watkins Coarse Sea Salt
1/4 tsp/1.2 Watkins Ground Nutmeg
1 cup/250 mL mashed ripe banana
1/2 cup/125 mL chopped walnuts
Click Here to Find these Ingredients Now
* Product Availability May Differ by Country
Directions
Grease bottom only of a 9 × 5-inch/23 × 13-cm loaf pan; set aside. In large bowl, cream together the shortening and sugar until light and fluffy. Mix in the eggs and vanilla and banana extracts until well combined. In another bowl combine flour, baking powder, cinnamon, baking soda, salt, and nutmeg. Add alternately with bananas to sugar mixture; mix well. Stir in nuts. Pour into prepared pan. Bake at 350°F/180ºC for 45 to 50 minutes or until bread tests done. Cool in pan on rack 5 minutes. Turn out of pan and cool completely on rack. To store, wrap tightly and refrigerate.
Makes 1 loaf, 12 servings.
I hope You enjoy this wonderful Recipe!
We welcome Your Comments please Leave a Reply below.
PLEASE NOTE:
We Need Reps in your Area! If You, or someone You know, would make a Great Watkins Products Consultant Please Contact Us.