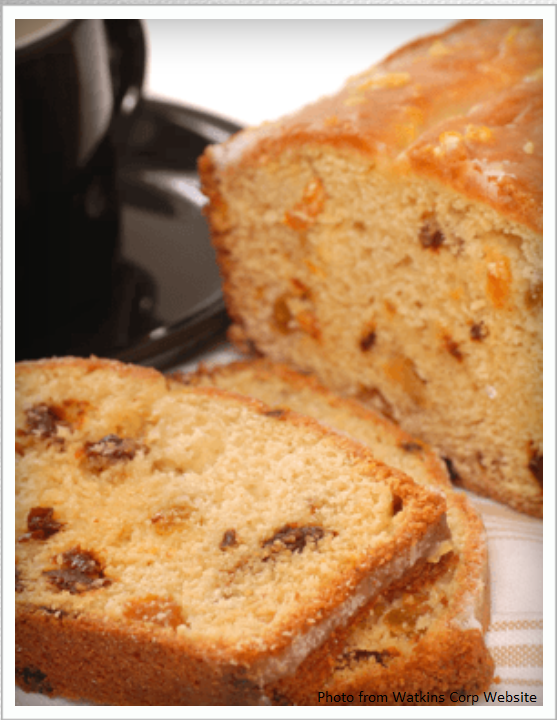 Apple Cider Quick Bread is sure to be a Favorite!
Ingredients
1-1/2 cups all-purpose flour
1/2 cup whole wheat flour
1/2 cup packed brown sugar
3 T. tasted wheat germ
2 tsp. baking powder
1 tsp. Watkins Pure Ground Cinnamon
1/2 tsp. salt
1/2 tsp. baking soda
1/2 tsp Watkins Ground Nutmeg
2 eggs, slightly beaten
1 egg white
1/2 cup apple cider or unsweetened apple juice
1/4 cup plain yogurt
1/4 cup Watkins Original Grapeseed Oil
1 tsp. Watkins Original Gourmet Baking Vanilla
1 cup shredded peeled tart apple
1/3 cup golden raisins
1 tsp. Watkins Orange Peel
Click Here To Find these Ingredients Now
* Product Availability May Differ by Country
Directions
In a large bowl, combine the first nine ingredients. In a small bowl, combine the eggs, egg white, cider, yogurt, oil and vanilla. Stir into dry ingredients just until moistened. Fold in the apple, raisins and orange peel. Transfer to a greased 9 x 5 x 3 inch loaf pan. Bake at 350ºF for 50 to 55 minutes or until a toothpick inserted near the center comes out clean. Cool for 10 minutes before removing from pan to a wire rack.
Yield: 1 loaf
I hope You enjoy this wonderful Recipe!
We welcome Your Comments please Leave a Reply below.
PLEASE NOTE:
We Need Reps in your Area! If You, or someone You know, would make a Great Watkins Products Consultant Please Contact Us.