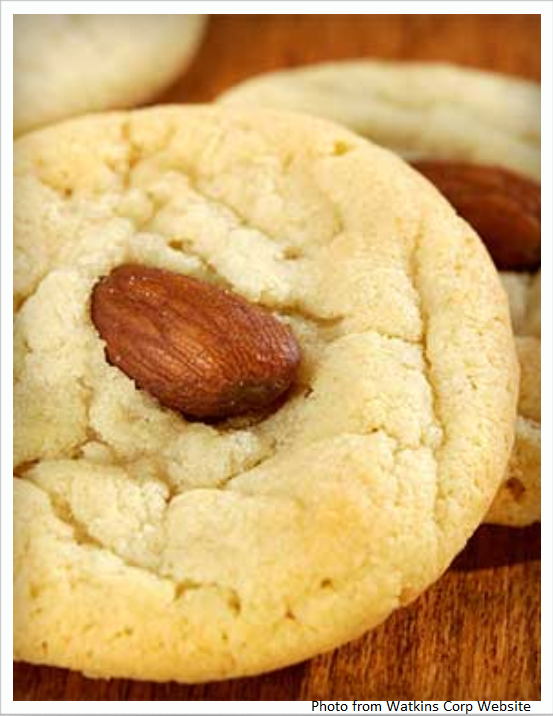 Almond Butter Cookies Recipe is sure to be a Favorite!
Ingredients
2 cups/500 mL flour
1 tsp/5 mL baking powder
1/8 tsp/0.5 mL Watkins Gourmet Coarse Sea Salt, freshly ground
1 cup/250 mL butter
1 cup/250 mL sugar
2 egg yolks
1/2 tsp/2.5 mLWatkins Pure Lemon Extract
1/2 tsp/2.5 mL Watkins Pure Vanilla Extract
3/4 tsp/4 mL Watkins Pure Almond Extract
4 oz/113 g blanched almonds, toasted
* Product Availability May Differ by Country
Directions
Sift flour; measure and sift again with baking powder and salt. Set aside. Cream butter and sugar together until light and fluffy. Add egg yolks, one at a time, beating well. Blend in extracts. Gradually add flour mixture, stirring well. Form dough into 1-inch/2.5-cm balls. Put on ungreased baking sheet and press a toasted almond in center of each cookie. Bake at 300°F/150°C for 15-20 minutes, or until lightly browned. Cool 5 minutes.
Makes 4 dozen cookies.
I hope You enjoy this wonderful Recipe!
We welcome Your Comments please Leave a Reply below.
PLEASE NOTE:
We Need Reps in your Area! If You, or someone You know, would make a Great Watkins Products Consultant
Please Contact Us.
Brian Hurlburt

Independent Manager
(ID#342198)
Toll Free: 877-822-8463