A Neat Treat and Unexpected Surprise for Consultant Wayne Beaton! That's what I got thanks to Independent Watkins Consultant Wayne Beaton (ID#637775) of Morell, Prince Edward Island, and what Wayne got when he went to deliver part of his first order to his Watkins Products Customer in Prince Edward Island. 
You see, when Wayne went to take his Customers order to them he took the whole box, with other Customer Product Orders, in the house with Him. Wayne got an Unexpected Surprised with what happened next!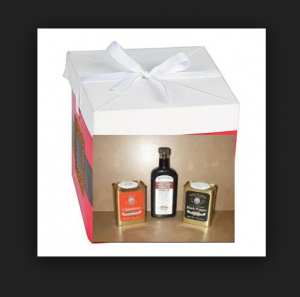 The Customer not only took their Watkins Products, but also insisted Wayne sell them most of the other Watkins Products he had in the Box!
So, while Wayne may owe his other Customers an apology for their Watkins Products taking so long to arrive, as now he'll have to reorder, Wayne was pretty surprised at the reaction! Obviously it's hard not to get excited when we get such positive reactions from our Watkins Products Customers.
So, while Wayne was here, he told me the story and although it's been awhile since Wayne was with his Customers, it was obvious that Wayne is still pretty excited, and even more committed to his Watkins Products Business!
Oh! You might be wondering what my Treat was!?
Well, while Wayne was here he brought me ….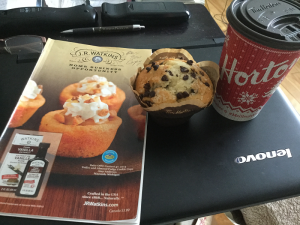 Although the treat wasn't really necessary, it sure is appreciated! (Thanks Wayne)
So, while Wayne was here, I of course suggested he take orders, and be sure to keep his Watkins Products for those who ordered them! 😉
While more importantly sharing in his excitement and his renewed commitment to making it work with Watkins Products!
I also shared with Wayne, that while other Businesses often rely on hype when promoting their income or business opportunity, we often downplay how easy it is to earn an income with Watkins Products because if we told people how easy it really is, they probably wouldn't believe us! It really has to be experienced to be believed!
I also shared that what Wayne experienced is similar to many experience our Watkins Products Consultants experience as they go about growing their Watkins Products Businesses while sharing Watkins Products and their Watkins Products Catalog! It really is that simple! People love Watkins Products and often don't know where they can get them!
If You're in Prince Edward Island and wondering where You can get your Watkins Products you may want to call Independent Watkins Consultant Wayne Beaton (ID#637775)  at 902-629-0588. Wayne is in Morell, Prince Edward Island, but He, or We, may be able to help you in other areas as well, as We are currently helping Wayne find other people to become Watkins Products Consultants!
If You, or someone You know, may make a good Rep, please call Wayne, or Click Here for More Info.
Have Questions?
Please contact me…

Independent Watkins Manager
Brian Hurlburt (ID#342198)
Toll Free 877-822-8463