10 New Watkins Herbs & Spices are slated to be introduced in Canada this Spring. These will be in TIns the size of our 170g Watkins Black Pepper and Watkins Cinnamon! Timing is still uncertain but may be as soon as April. Pricing for the new spices in tins will be only $8.99 CAD each. The pricing on existing tins of Black Pepper and Cinnamon will stay the same.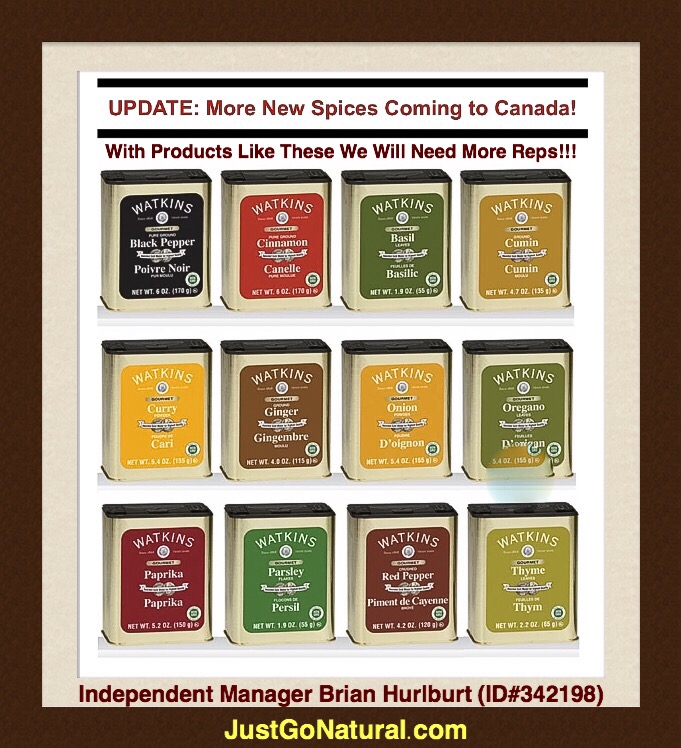 The 10 New Watkins Herbs & Spices currently slated to be introduced into Canada later this year include:
60601 Basil (55 g)
60604 Ground Cumin (135 g)
60605 Curry Powder (155 g)
60608 Ground Ginger (115 g)
60610 Onion Powder (155 g)
60611 Oregano Leaves (40 g)
60612 Ground Paprika (150 g)
60613 Parsley Flakes (55 g)
60616 Crushed Red Pepper (120 g)
60633 Thyme (65 g)
These New Watkins Herbs and Spices will be introduced at just $8.99 each
Watkins 170g Cinnamon Item#01115 will remain at just $10.49
While Watkins Black Pepper in the 170g Tin will remain at just $12.99
* Note these prices do not include S&H Charges.
With the coming introduction of these Watkins Herbs and Spices will come an increase in Customer Demand and to help meet this demand we are seeking people to join our Team of Watkins Products Consultants. As a Watkins Products Consultant you can receive a Discount on your own Watkins Products, and can earn up to 59% on Your Personal Sales of Watkins Products. Thus we want to invite You, or others interested in earning an income with Watkins Products, to contact us at Toll Free: 877-822-8463.
((Click Here to View our Catalog))